Topshop's New Collab Will Have You Wearing Snakeskin From Head To Toe For The Holidays
Courtesy of Topshop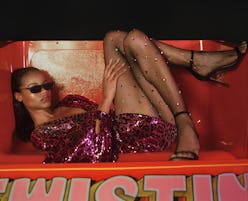 It's likely that everyone would agree on the fact that basics are the foundation of any wardrobe. Sometimes, however, fashion should be about a little bit of escapism and a whole lot of glamour. And if your wardrobe could use a fresh dose of said allure and excitement, you'll want to take a look at the Topshop x Halpern collab that just landed at the British high-street store — it's bound to bring a measure of levity and fun to anyone's wardrobe.
If you're already familiar with Halpern's designs, you know the label is big on high impact, high glamour pieces that are guaranteed to make a statement. Think lots of sequins, metallics, bold colors, and unexpected silhouettes that stand out from the pack. So it comes as no surprise that the fashion brand's collaboration with Topshop incorporates all of the above into a vivacious and vibrant collection that'll quickly convince you to don a more daring look this season.
Considering the goal for the Topshop x Halpern collab was to create pieces that exuded Studio 54 levels of glamour and style, the pieces are all decidedly party-appropriate, and definitely sequin-bedecked. And to make the collection even more appealing, you can get your hands on each of the items for $250 or less.
A prime example? The capsule collection's snake print sequined trousers. The $140 blue sequined pants have a totally disco-era feel to them, especially thanks to the throwback flared hem. Wear them to a holiday party with platform shoes (fashioned in velvet for an extra dose of texture), and a sleek black knit turtleneck.
Or, go for a head-to-toe look by pairing the pants with the coordinating $125 snake print top, rendered in the same blue sequined material with a halter neck and asymmetrical hem. The look is an indisputable nod to '70s discotheque style, but also fully current thanks to the ongoing snakeskin trend.
There are lots more sequins to be had in Halpern's Topshop collab, like the color-shifting Hologram Sequin Jumpsuit or the super-feminine Sequin Cheetah Dress. Both pieces are $250 and practically require that you wear them for a celebratory night out. Each is completely covered in sequins, the former shifting color with every move and the latter showing off a hot pink cheetah pattern. Pair either with strappy metallic sandals and a patent leather clutch, and consider your New Year's Eve outfit sorted.
You'll also find luxe, holiday-ready velvet pieces included in the collection, but done in bold colors that are less likely to be seen a million times over on the season's party circuit. Wear the collab's electric green velvet bodysuit, $65, with a leather pencil skirt and slouched boots for a modern holiday ensemble that's equal parts fun and polished. Or, pair with the Topshop x Halpern $150 hologram sequin trousers to marry the two eye-catching textures into one statement-making look.
One thing's for certain: Topshop's latest collaboration with Halpern will have you quickly considering something a little bit bolder for your holiday wardrobe this season. Whether you favor head-to-toe snake print or a healthy dose of brightly colored velvet, browse some of the best pieces from the limited edition collection below.