Swimsuits For All Just Released The Retro Swimwear Vintage Lovers Are Looking For
Courtesy of Swimsuits For All x GabiFresh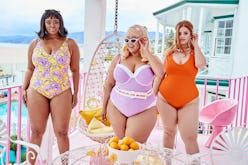 A new doll has moved into Barbie's Malibu Dreamhouse. On April 2, the Swimsuits For All x GabiFresh collection dropped, releasing an 11-piece swimwear collection that could make any vintage lover's heart soar. Besides drawing inspiration from throwback doll clothing, the retro swimsuit styles would look perfectly at home on the sets of movies like Grease and Hairspray — and there's a suit for you, whether your style is as sweet as Sandy's (pre-bad girl makeover) or as edgy as Rizzo's.
"Creating this mod-inspired collection was so fun for me!" GabiFresh's Gabi Gregg said in a press email. "As always, I strive to challenge unrealistic beauty standards, and this campaign was about juxtaposing retro-inspired imagery with a diversity of body sizes that should be seen and celebrated. The models Bree Kish, Hadassah McGrew, and Zach Miko totally made the shoot come alive. Together, they capture the confidence that my brand aims to promote."
This isn't the first time the fashion blogger-turned-designer (and Premme co-founder) has teamed up with Swimsuits For All — but it may be the duo's most glamorous collection yet. The vintage-inspired swimwear is available in sizes 10 through 26 and cup sizes D/DD through G/H. Unlike some retro or size-inclusive collections from other brands, the collaboration's prices are standard, and sometimes even more competitive — nothing in the collection retails for higher than $120. Bikini tops and and bottoms are sold together, too, making it that much easier (and cheaper) to coordinate your summer look.
Which you'll definitely want to do. As you probably already know, vintage-inspired swimwear is having its moment. And while it's hard to pick favorites, the GabiFresh x Swimsuits For All Dollhouse High Waist Underwire Bikini nails some of the trend's best aspects: The $102 suit's sleek and summery details balance its throwback pin-up silhouette, with a decidedly modern sunset-themed color-block.
More of a one-piece fan? The GabiFresh x Swimsuits For All Girlfriend Belted Underwire One Piece would make Barbie jealous. The $114 suit pairs a pale lavender color with white details and a vivid orange-striped belt. You could wear anything you want with it, but the collection's campaign style is on point; the model sports a matching purple headband in the look book, which feels like a fashion move both '50s and 2019 stylists would approve of.
And, to make the release even sweeter, Swimsuits For All is also running a sale on its website — and every single piece from the new GabiFresh collection is marked down. Ready to shop? Don't blame you. Keep on scrolling to browse a few of the pieces from the new collection.