Need A Break From Shell Jewelry? Try This Trend Instead
Courtesy of Ulla Johnson Fall 2019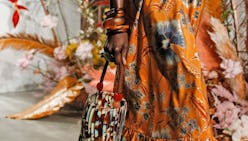 It's July, and I've reached peak shell. Somewhere between the deluge of summer vacation posts prominently featuring crustacean jewelry and getting trapped in a bathroom filled to the gunnels with conches, I decided to pursue a new summer jewelry trend. So I (temporarily) stashed my shell anklets, necklaces, bracelets, and earrings in favor of an alternative.
Wanting to invest in a trend with legs, I looked to the Fall and Pre-Fall 2019 collections for inspiration, and found plenty of examples that felt just as appropriate to wear with warm-weather ensembles as they will come autumn. High-polish, light-refracting resin, perspex, and lucite were the most exciting of the bunch, given their sculptural shapes and variety of colors. The lightweight material is at once artsy and elegant, and has found itself manipulated, stacked, and stained into a range of vibrant colors and shapes.
Take Dries Van Noten's hefty perspex collars and bangles, an ode to '80s style with a dash of quirky art professor, which would provide a stylish counterpoint to any ethereal summer dress. Or Missoni's asymmetrical resin earrings, rendered in muted rainbow palette, that will pair well with everything from crochet to corduroy. Or Ulla Johnson's stacked horn and resin bangles, that'll team nicely with summer's crisp whites and happily segue into fall with chunky knits.
Thankfully, Pre-Fall and Fall collections become shoppable in the summer months, which means these runway pieces are already hitting stores, but for an impatient shopper like myself, there are plenty of other resin pieces already on the market. Here are a few, along with suggestions for styling them.
An Easy Start
If the trend feels a little too childish, or you'd rather not start out too big, might I suggest a simple flattened lucite hoop? Unlike hefty metal styles, you'll forget you're wearing this lightweight resin version, and they're petite enough to work at the office or with other jewelry. Pair the shimmering opal color way with a linen suit, slides, and a minimalist bag for a palette-cleansing look.
For A Unique Spin
One of the virtues of this material is it's ability to be fashioned into a cornucopia of interesting shapes. For example, Balenciaga's Rock Necklace, features a variegated chain and a chunky stone that is clear save for luminescent threads that give the decidedly old-world crystal shape a modern flair. Use it to toughen up feminine pieces like fitted or plunging dresses with heels.
For A Bold Statement
If you're looking to go all in, jump aboard the perspex collar train. There are plenty of clear lucite options, but Dries Van Noten's stackable pair in peach and lilac is absolutely stunning. For anyone who gravitates towards muted colors and minimal silhouettes, they'll make a statement with minimal effort. For summer, style them with a breezy dress and flats. Come autumn, layer them over crewneck sweaters with slouchy trousers.
For A Dose Of Color
If you're a fan of prints and color, why not double down? If you aren't, colorful jewelry is a great way to incorporate a wider range of hues into your everyday look. Rather than skewing childish, these stackable resin bangles from Kyoto Tango feel elevated thanks to their large, faceted beads in unusual color pairings. Team them with a printed dress or use them to liven up a flight suit.