Shopping Experts Say These Are The Best Spring Trends To Try ASAP
WWD/Shutterstock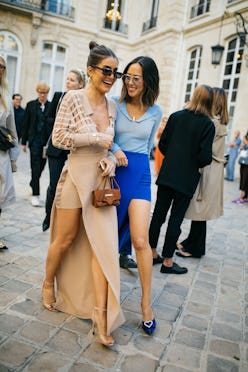 You go to a doctor for health advice, and talk to a personal trainer before you commit to a new workout routine, so it only makes sense that an expert's advice when shopping, too. Namely, one who knows a thing or two about the trends and brands picking up steam in the months ahead. Those experts are none other than the buyers and fashion directors that decide what you can actually shop for on your favorite fashion websites. Now, these shopping experts are sharing the spring 2019 trends that they think have the potential to dominate the entire season.
Part of what makes these women some of the best people to turn to when in need of advice is the fact that they don't just see the trends walk down the runway; they think actively about the women who wear them (and how said women might actually want to put a look together, too). A trend can look great on the runway, but if women don't actually want to buy or wear them, it doesn't matter how pretty or fun they may be. This is exactly why an intimate knowledge of what's selling for these top retailers makes them perfectly poised to predict the pieces worthy of a spot in your closet (it's prime real estate after all). Below, find seven shopping experts' take on the biggest trends for spring.
Lisa Aiken, Fashion Director, Moda Operandi
"Tailoring is a key trend for spring; despite having some personal bias since I wear blazers almost daily," Aiken says. "Those traditional, sharp silhouettes are seen with tonal and colored tailoring along with the concept of suit dressing. It's an easy choice for those transitional weeks between winter and spring."
When it comes to styling, Aiken recommends to dip into suiting by going for the blazer first. "We've seen new options on the streets of how to wear them," she notes. "For styling, wear it belted, as a full suit or paired with more fluid silhouettes like a slip dress."
Already have a few blazers in your closet? Aiken suggests shopping for "jackets with new tailoring details like a tie belt" to kickstart your 2019 shopping. "When tied, it defines your waist to balance the more masculine structured shoulder. Or, worn undone for a varied, looser interpretation."
Natalie Kingham, Fashion and Buying Director, MATCHESFASHION.COM
"Resurgence of decades past on the catwalk is nothing new," Kingman tells TZR. "But instead of singular or literal interpretations, designers are merging generations to create a new modern. From 1970s lightness to 1950s couture techniques, 2019 will be a celebratory mash up of it all." She adds, "In a social climate that is striving for inclusivity, it feels designers are being more conscious about the women that will ultimately wear their clothes — what occasion she is dressing for, what is her lifestyle, her background."
For the Spring/Summer 2019 season, Kingman notes the range of the top on-site designers: Valentino, Prada, Molly Goddard, Haider Ackermann, and Marine Serre. "The common thread running through all of our favorite shows is functionality," she notes. "Anything done, for design sake, doesn't feel modern — it was all about creating collections that had women's best interests at heart."
"Valentino and Haider Ackerman were standouts for this; the collections looked to embrace the varying and busy lifestyles of women and the need to dress for a number of different occasions and purposes in a day. Flat shoes paired with glamorous dresses offered a sense of escapism, yet still had that appeal of instant wearability. Marine Serre did this particularly well, showing a range of dresses from evening gowns, to bold minis and her signature scarf dresses with neoprene flats and trainers, as well as Haider Ackermann, pairing even the more glamorous pieces of the collection with heavy flat boots."
And as for the first piece Kingman is picking up this season? Her choice is an eye-catching graphic top. "The spring must-have is a reinvented tee," she says. "The Calvin Klein 205W39NYC's reworked Jaws tees and Christopher Kane's colorful Horsepower pieces will make great bold summer essentials."
Elizabeth von der Goltz, Global Buying Director, Net-A-Porter
"We've seen the 'California Cool' trend slowly making its way into winter wardrobes by way of layering tie-dyed tees, but we expect it to take off as we get into spring. Once the weather starts warming up, we'll be embracing the spirited and colorful trend in full force," Von Der Goltz notes.
Going into greater detail about what the trend entails, Von der Goltz says, "the great thing about this trend is there are countless ways to incorporate it into your wardrobe. It is very item driven: the Hawaiian shirt, the bucket hat, racer-back tank tops, shell jewelry and, of course, tie-dye are all ways to tap into the trend, in your own way. R13's Spring/Summer 2019 collection epitomizes 'Cali Cool,' with bright tie-dye, ripped denim and double shirt layering. Ambush, which just launched on NET-A-PORTER, gives us a grungier take on the Venice beach style, with Baja hoodies and knitwear."
For those looking for a way to try the trend but tend toward something a bit more polished, von der Goltz has suggestions too. "For a more elevated interpretation, look to Prada's satin tie-dye skirts and Stella McCartney wide-leg trousers with matching top, and pastel tie-dye baby doll dresses," she says. "Chloe's first logo tee in sunset ombre form, is also a great way to buy into the brand and embrace your inner Cali-cool."
"I'm currently coveting Loewe's updated raffia tote which is embellished with oversized faceted gemstones," the buying director adds. "It's the perfect bag for warm weather and embodies the fun and carefree spirit!"
Elyse Walker, Fashion Director, FWRD By Elyse Walker
"Coming up on the 50th year anniversary of Woodstock means tie dye everywhere," Walker explains. "From soft, refined representation on the runway at Christian Dior, to Kaia Gerber's bright R13 moment, we really saw this trend high, low, and everywhere in between."
If tie-dye seems too bold, Walker also suggests trying a sunny monochromatic look, "I'm loving head-to-toe yellow looks or also just a pop of color in a yellow accessory," she notes. "I think the easiest way to invest is probably to take the plunge and buy a yellow bag or shoe."
And as for the one piece Walker purchased first this season: "My most coveted piece this season is this Raquel Allegra's tie dye dress. I can throw this on whenever I'm in a hurry and look both comfortable and on trend."
Jessica Raiter, Fashion Director, 11 Honoré
When it comes to spring trends, Raiter predicts that muted hues will be a big draw. "A neutral color palette — beige, cream, khaki, blush — in a natural fabric, like linen or silk," she notes. When styling this trend, she suggests going all out, "a full monochromatic, neutral look is polished and effortless. Incorporate into your existing wardrobe by pairing the individual pieces with denim or another neutral for versatile and easy outfits."
To test the trend out herself, Raiter's piece of choice is an elegant, striped blouse. "This Mara Hoffman top will be a staple in my closet this season!"
Caroline Maguire, Fashion Director, Shopbop
For Maguire, this season her focus is on the next It-accessory for spring, "structured, hand-held bags (in all sizes)," she says. "I love that you can wear them with any outfit regardless of occasion or clothing trend. They bring an element of luxury to your look without being too formal."
And as for the one style on the site she's already eyeing for her own closet? "This bag!" She tells TZR, referring to a small, white square style from designer Alexander Wang.
Marie Ivanoff-Smith, Fashion Director, Nordstrom
"Vibrant-impact colors take center stage for spring," Ivanoff-Smith notes, speaking to the bold hues that have been spotted on major runways from New York to Paris.
For those hoping to try the trend, the fashion director notes its versatility. "Wear one color head-to-toe for a monochromatic impact, mix and match colors for a layered look," she explains. "Another easy update is to add a punch of neon to earthy neutrals. A bold-colored third piece is a great addition to your closet, such as a blazer, denim jacket or light-weight coat."
She says she's obsessed with Tibi's DB Trench Coat in Turquoise, calling it perfect for transitional weather. "You can pair this piece back to any shade of blue or layer with a contrast hue for an energetic effect."