Shopbop's Betting Big On This Sporty Shoe Trend For Spring (& No, It's Not Sneakers)
Shopbop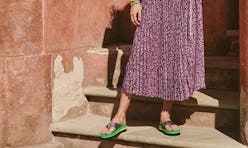 Open-toe shoe season is right around the corner (cue the applause), and that means you'll soon be able to skip the socks to show off your pedicure. Like any new season, spring ushers in a fresh crop of trends to try, which, though exciting, can leave you at a loss for where to start. Lucky you for, Shopbop's Spring Trend Edit is here just in time to help you narrow in on your search. And where will your focus be? It's all about sporty sandals according to the retailer. Shopbop is betting big on the athletic-inspired styles as a spring 2019 shoe trend, featuring a range of silhouettes in statement-making bold brights and sleek, modern neutrals among its offerings.
If you've been waiting to get your hands on sporty styles since spotting them on the spring runways, now you can finally bring a pair (or two) into your closet. Still on the fence about the trend? All it takes is one scroll through the retailer's diverse edit of styles to be convinced you need to add the athletic vibe into your sandal mix ahead of the warm weather. And, since this is the only spring shoe trend to be called out specifically by the fashion-crowd favorite site, the likelihood that sporty sandals will soon be seen on everyone from street style stars and editors to celebrities is high.
On that note, get ahead of the trend by taking a look at the styles Shopbop is serving up for the new season while your size is still in stock. For shoe lovers eager to dive right in, peek at Marni's Wedge Two Band Slingback Sandals, $772.80, in pink and gold. Or, keep the eye-catching silhouette more subdued in a black and blue hue. Just like the weighty dad sneaker, this chunky platform will pair nicely with your straight-leg jeans and provide a grounding force for floaty, long dresses.
After the ease of a flat? There are several slide styles that'll bring you back to the days of heading to field for practice, including a sleek white duo from adidas by Stella McCartney for $60. You can also slip into a pair of Quilted Stripe Slide Sandals from Tory Burch, $148, to give a stylish twist to the nostalgic shape. Pair either set with denim Bermudas (a shorts silhouette you won't have a problem picking up for spring) for an effortless look.
The aforementioned styles are just the beginning when it comes to the array of sporty sandals available at Shopbop. Continue on to begin adding new styles to your cart and head over to the site for even more. There's no doubt these sandals will have you dressing from the feet up.