Yep, Flip Flops Are 2019's It-Shoe — Here's How To Wear Them
by Aemilia Madden and Mecca James-Williams
ANDREW MORALES/REX/Shutterstock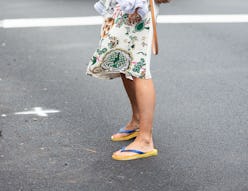 Often, a trend starts on the runway and slowly makes its way into the wardrobe of fashion insiders, then down to the masses. In the case of flip flops, it seems that things are developing in the opposite direction. The street style came first, and then the runway followed. All summer long, trendsetters sported them in street style shots — from Stockholm, to Copenhagen, to NYC. Now, with the advent of Spring/Summer 2019 shows, we're seeing for the first time how to wear flip flops in the months to come, a primer in how the trend is translating to the runway (and back into your wardrobe).
While simple rubber sandals aren't going anywhere, the trend is growing and changing, with brands reimagining the thong sandal in new ways. At major runway shows like Tibi and Jil Sander, this simple footwear transformed: Heeled, platformed, and tied-up, your humble flip flops were taken to a whole new level. All of this makes them the ideal choice for your next statement shoe because you can choose how bold to go based on your comfort level. Sure, you could keep things simple and classic with a pair of Havaianas, but, for those looking for something a little more daring, well you can go there too.
As for how to style them, this is where the months of street style inspiration will serve you well. Flip flops can help dress down a fancy maxi dress for daytime (just pair with a cute statement purse and you're good to go). On the other hand, a more avant-garde pair looks great with cropped jeans and a basic white tee for an updated twist on a classic ensemble. The bottom line: Love 'em or hate 'em, flip flops are poised to take over 2019. Check out runway evidence and get a jump start on shopping for them below.
Classic
Whether it be sleek leather or slightly sporty, the classic flip flop silhouette will remain a staple in the year to come. Though it's a solid choice for the beach (as proven by Etro), it's a sweet and simple pairing with evening-wear too.
The Thong 2.0
Between Jil Sander's exaggerated platform, Prada's sporty sock sandals, and Sportmax's lace-up ankle details, the runways prove that there's no wrong-way to reinvent the thong sandal. While more avant-garde styles may be intimidating at first, they're actually an ideal way to spice up your standard jeans and flip flops uniform. And even though they're more fashion-forward than the simple sandals you wear to the beach, they'll still keep your feet comfortable. Sounds like a win-win.
Heeled
A third take on the flip flop worth noting for the new year is the high heel. Though Yeezy and Celine both presented its own takes on the design over the past year, prepare to see more to come in 2019. This dressed-up iteration of the ultimate casual footwear will be ideal for your warm weather night-out ensembles.