Sally Hansen Created A Collection That Makes Trying The Rainbow Nail Trend A Breeze
SALLY HANSEN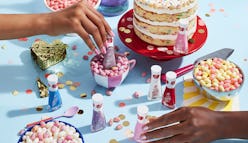 What happens when an iconic beauty brand known for nail polish comes together with a beloved candy company? A sweet, colorful collection of shades, obviously. And the timing of the Sally Hansen x Jelly Belly collection couldn't be more perfect, as the new collaboration is serving up a selection of hues that'll make it super easy for you to try out the rainbow nail trend that's been blowing up on Instagram.
Composed of 11 colors inspired by Jelly Belly's flavors, the Insta-Dri hues each ring in for a wallet-friendly price of $4.99. These nail colors were practically made for an on-the-go lifestyle and will take no time at all to apply (even if you want to paint every tip a different hue à la Kendall Jenner).
How so? Insta-Dri's unique brush design combined with the formula's built-in base and top coat promises to provide tons of shine with just one stroke. The best part? This polish only takes 60 seconds to dry — aka, you can do your nails in the morning right before you head to work and not worry about smudging them during your commute.
"We are so excited to partner with Jelly Belly® - a truly iconic jelly bean brand that celebrates color and creativity," said Celia Tombalakian, Vice President of Sally Hansen Global & US Marketing, in a press release. "The collection is an emphasis on Jelly Belly's wildly popular flavors that are translated into our quick dry polish. The vibrant and juicy shades are a perfect way to welcome spring on your nails."
And spring-ready your nails will be, given that the collection delivers a slew of poppy, vibrant shades. So, why pick one color when you can try a few? For anyone who wants to test out the multi-colored nail look currently trending, now is your chance to go full-on rainbow. In the mix, you'll find a bold red, blue, green, and purple to have fun with. And while you're at it, add "Buttered Popcorn," a pale-yellow hue, to your cart to round out the lineup.
But if you're trying to stick to one color family to achieve monochromatic ombré nails instead, there are several pink and purple options to choose from, including "Bubble Gum" and "Island Punch" as well as the sparkly "Strawberry Cheesecake" and "Tutti Fruitti." Or, you can opt for more of a tropical vibe with shades of blue and green and scoop up "Blueberry" and "Berry Blue" as well as the eye-catching "Green Apple."
Ahead, a fresh set of polishes from this collection to give yourself a photo-worthy, multi-colored mani.