Why Rose Skincare Products Could Possibly Replace Your Retinol Favorites
KORRES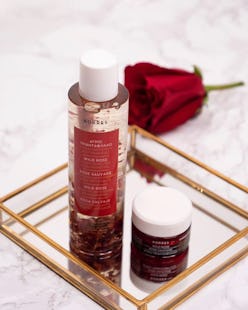 Mention the words "anti-aging" within earshot of a dermatologist, and a retinoid prescription will suddenly appear, as if by magic. I'm exaggerating, but only a little: The lab-isolated vitamin A metabolite is the most-prescribed medication in the industry, and has long been lauded for reversing and preventing wrinkles, fine lines, and age spots. Lately, consumers have started second-guessing the retinoid script (it usually involves some pretty intense side effects) and seeking out gentle, natural alternatives. Bakuchiol is the big one, but experts say rose's skincare benefits include some serious youth-preserving power, too.
This isn't your typical anti-aging ingredient, though. Whereas retinol and bakuchiol work to repair and reverse the signs of aging (or, you know, signs of a long life well-lived), rose essentially keeps them from showing up in the first place. "Roses are filled with antioxidants that help fight free radicals caused by pollution and UV light," Dr. Lily Talakboub, M.D., F.A.A.D, a board-certified dermatologist with McLean Dermatology and Skincare Center, tells The Zoe Report. Many of the things perceived as symptoms of getting older — loss of collagen, dull skin, hyperpigmentation — can also be symptoms of long-term environmental stress; so antioxidant-packed rose "helps prevent the signs of aging" by neutralizing the effects of pollution particles and UV exposure, according to the dermatologist.
That's precisely why clean beauty brand Beautycounter includes rose extract in its new Countertime line. "We wanted our Retinatural Complex to deliver reparative benefits as well as antioxidant protection — the latter being just as important to products that address signs of aging in a holistic way," Michael McGeever, the Chief Product and Merchandising Officer at Beautycounter, tells The Zoe Report. It tapped bakuchiol, the industry's buzziest "natural retinol," for the reparative part of that equation, and rose for protection. "We went through countless trials with our in-house Research & Development lab and found Swiss Alpine rose to be the perfect complement to bakuchiol in terms of delivering results through powerhouse, plant-derived ingredients," McGeever says.
Beautycounter's Swiss Alpine rose is "grown at the highest altitudes of the Alps" and thus, "known for its ability to protect itself against environmental stressors like dehydration." But other types of rose — rose water and rose essential oil, for instance — are also abundant in the skincare space. Beauty brand Pure Rose is known for its "Rose Nectar, a proprietary blend of pure Bulgarian rose extract enriched with rose essential oils," founder Todor Dimitrov tells TZR. The company's single SKU is intended to be used topically as a cleanser or face mist, but is pure enough to drink, too. "Consuming rose water can have a calming effect on the body," Dr. Talakoub says. "However, it may not directly affect the skin." For this reason, the derm recommends adding it to your skincare routine rather than your smoothie (at least, if you're after the beauty benefits).
So, what makes rose — a centuries-old ingredient loved by Cleopatra and Marie Antoinette — worthy of a renaissance now? "I actually think the movement is towards ingredients people recognize," McGeever says. "In the past few years, we've seen a shift in the market where people are gravitating toward products with ingredients they can relate to." And affordable, accessible, and effective rose is nothing if not relatable.
Dr. Talakoub says most products featuring rose extract and rose water are safe to slather on all skin types (they are, after all, known for their complexion-calming properties). Rose essential oil can "sensitize the skin and make the skin irritated" if too much is used too often, though, so exercise caution there.
Ahead, 10 ways to (re)discover the power of rose — no prescription necessary.
Shop Rose Skincare