Here's How To Style Tombolo's New Jacket Line (According To The Founders)
Courtesy of Tombolo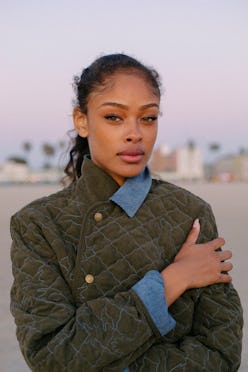 The idea of "trendy" fashion is a polarizing one, to say the least. On one hand, you want to sport the of-the-moment styles that feel fresh and cool. On the other, the idea of building a wardrobe of investment pieces that are not only made to last but can also stand the test of time is one that everyone can work towards. So when a popular sartorial movement — such as the quilted jacket trend — moves out of the realm of trendy and into the growing portfolio of timeless classics, you know it's something worth noting.
Considering the fact that blanket dressing — i.e. quilted pants, coats, accessories, and more — made its way to the Fall/Winter 2019 runways as a trend to watch, this particular style is only getting started. But in case you needed any further proof, the cult-favorite brand Tombolo has released a new collection of lightweight quilted jackets just in time for the holiday season.
If you aren't already familiar with Tombolo's bright and colorful Hawaiian shirts, know this: These cheeky shirts are the perfect way to channel summer year-round. Of course, the brand's founders — who are both native New Yorkers — know that chillier weather happens, no matter where you are. Which is why Tombolo's latest drop is perfect for the colder months of the year.
You might find it surprising that a brand known for its tropical-inspired Hawaiian shirts chose to make insulated quilted jackets for its next move. But for the founders, Mike Sard and Chris Galasso, this decision felt natural. "Our shirts are at their best when they transport you through time and place: They feel like they're of another era and slipping one on helps you find your escape," Sard and Galasso share with The Zoe Report. "It felt like a ripe opportunity to take something classic and nostalgic but reinvent it."
Tombolo aims to bring you "maximalist inactivewear." However, the brand's Quilted Jackets — which are each available for $268 — will go easily with anyone's closet. Sard and Galasso suggest wearing it in a statement-making way that still feels relaxed. "Imagine you borrowed this jacket from the coat closet of a hypothetical grandpa's hypothetical seaside cottage," they say. "Roll up the sleeves to show the chunky corduroy cuffs. Add a scarf in complementary colors tied around your neck. If it's really, really cold, you may opt to throw on a belted overcoat over the quilted jacket and layer the two."
Ready to add this unique piece into your fall and winter wardrobes? Scroll down to shop Tombolo's Quilted Jackets below.