Do This For 30 Minutes Before Work For A More Productive Day
Courtesy of SIWWAA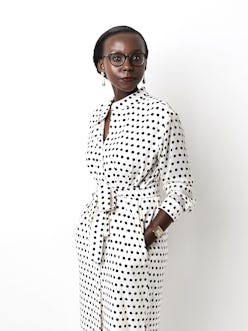 When it comes to mornings, some take the "early bird gets the worm" approach while others allow the bird to snooze way after the alarm has sounded. Whatever your stance may be, it can't be denied that mornings are an opportune time to get the productive juices flowing.
In fact, a study by the American Psychological Association Journal, showed that, of the 700 individuals surveyed on their emotional state and preferred time of day, morning people reported feeling happier than those who preferred evenings. For those who struggle through mornings a bit, productive and energy-filled mornings can seem like a pipe dream, especially, when you consider all the distractions that can come from manic (or even mundane) mornings.
"A messy house [can throw me off in the mornings]," says Christine Andrew, founder of Hello Fashion & Shop Hello Fashion. "When my house is clean I'm a lot more productive ... It doesn't last long at our house — somehow the kids can make a mess in two minutes, but the few minutes it is [clean] are heaven!"
For some, technology in the first few hours of the morning can throw a wrench in the entire day. "I used to check my phone as soon as I woke up," says Alicia Yoon, founder of Peach + Lily. "I end up being more reactive than intentional with my priorities that day. So, I don't check my phone now until after I've had a chance to write down my priorities in peace and quiet."
So, amidst the messiness, onslaught of emails, and general mania of mornings, how exactly does one go about getting motivated and completing a laundry list of tasks before noon? To get some answers, top business women in the fashion, beauty, and lifestyle industries were tapped to reveal their typical morning routines, and what really gets them moving once the sun is up. (Spoiler alert: Coffee is involved.)
Sarah Lee & Christine Chang, Co-CEOs & Co-Founders of Glow Recipe
Lee: "My favorite morning hack is sheet-masking in the car. Sheet-masking is not only a supercharged way to hydrate and nourish skin, but it's also a fun, satisfying way to 'skintertain' and pamper myself (even if it's only for a few minutes!) during what many people consider to be the worst part of their day. I try to only apply eye and lip makeup before leaving my apartment, which allows me to place the sheet mask on my bare face. By the time I reach the office, my skin looks and feels healthier and is fully prepped for the long day ahead!"
Chang: "My morning routine is all about on-the-go efficiency, as I'm crunched for time between dropping off my kid at school and racing to morning meetings or breakfasts. I always carry a pouch of miniature skincare products in my purse that I can whip out in a minute, including a toner to hydrate and balance the skin, an antioxidant serum, a moisturizer, and an SPF. A pop of color with red lipstick helps tie the look together!"
"I have a pretty set morning routine. Starting the day organized with a clear mind makes a big difference for me, so I try to stick to my morning routine as much as possible. [This includes] waking up at 6:15 a.m., meditating, praying, reflecting, and jotting down everything I need to do that day. I make it a point to not check my phone until after this time. (And I'm usually drinking matcha tea.) I then work out, take a quick shower, and do my skincare routine."
Wanja Laiboni, CEO/Founder of SIWWAA
"Having a set morning routine gives me one less decision to make. Most importantly, it focuses me. Whether in Milan or Nairobi, the first thing I do when I wake up is drink two glasses of water. The core of my morning ritual, however, is a mug of Kenyan black tea with milk. Because every important ritual has its artifacts, I have a special tea mug that I bought from a ceramicist while traveling in the South of France.
In my morning teacup I find the comfort of home and a gentle transition from the dormancy of sleep to energetic activity. Weirdly, this has become the 'thing' that signals to my brain that my workday has officially begun."
"I generally wake up pretty early naturally and it's when my brain is most active. If I can get a solid hours worth of emails done when I first wake up, and then get through a workout class, I consider that to be a great morning."
"Because I try to make the most of the time I do have with the kids, I try to get most of my work done while they are asleep. That means my alarm usually goes off between 5 and 6 a.m. Three to four days a week, I like to go to the gym and work out with my trainer for an hour. I've just started doing this in the past year, and it's helped me to clear my head and really get in a good mindset for the morning. I've also loved working with my trainer because there are moments when I feel like I can't go any further and she pushes me. I feel like I've been able to carry that into my business life, into motherhood, and into every different aspect of my life.
Beckam, my youngest, sleeps until around 8:30 a.m., so I have an hour to plan out my day, make my to-do list, and collect the products I need to shoot for my blog. For breakfast, Beckam loves pancakes. Growing up, my dad made me pancakes every single day, so it's kind of cool that he loves them, too. When we have breakfast together, I try to stay off my phone and devices so I can hang out with him."
Fiona Stewart, Founder and CEO of Slip
"I always need very strong coffee very early! My mornings are my most productive time. I wake up every day before the rest of my household and try to get a lot of emails done before my boys wake up. Then I go into 'mom mode' — I make breakfast, pack school lunches, and get everyone ready for school drop-off. After this, it's right back to my desk."
Dr. Audrey Kunin, Founder Of DERMAdoctor
"My life is so full and my schedule chaotic. It is particularly important for me to get control of the various personal and household concerns first thing in order to feel ready to conquer whatever comes my way. In the mornings I am more energized and open to what comes my way, so I find this is my perfect catch-up time.
My dog's needs come first followed by a fresh pot of coffee. Then I make certain the kitchen, laundry, and mail (virtual and snail) are caught up. In a perfect world, I get in an exercise routine then get ready to begin my professional day."
Tera Peterson, Founder Of NuFace
"I get up at 5:30 a.m. and start drinking lemon water, then I'll have a few almonds and hit the gym. Getting my body moving early really wakes me up but it also sets the tone for the day. Self-care is so important because that means I'm fully able to be there for my family and employees. And with twin girls I always have to be on and ready. After my workout, I'll grab some tea and jump on emails."
Annie Lawless, Founder & CEO of LAWLESS
"I start every morning with at least 30 minutes of meditation. I have found this to be crucial for me to feel my best for the rest of the day. I make sure to carve time out for this, even if it means waking up earlier.
I also prefer to work out in the morning — yoga or a nice long walk is my go-to. Once that's done, I'm ready to sit down and plan the schedule for my day: mapping out calls, e-mails, and projects. If I can make time to take care of myself via alone time in the morning and set the organizational flow of my day so that everything runs smoothly, I consider that a productive morning."