ELOQUII's Latest Collection Features The Most Genius Accessory
Courtesy of ELOQUII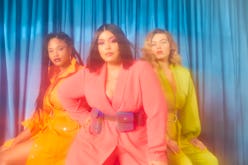 At their core, makeup artists are risk takers. They're artistic wizards with the ability to turn a blank canvas into a colorful and radiant work of art. It's only natural that this creative talent would translate to fashion, right? Case in point: ELOQUII's latest collaboration with Priscilla Ono, Fenty's Global Makeup Artist and Rihanna's go-to beauty guru. Available today, the new drop is basically a sartorial makeup palette designed to turn heads — and make your life a bit easier, thanks to one seriously genius accessory only an MUA could think of.
If you're looking to dip your toe into the vibrant color pool, this collection is the way to do it. The high-octane, 12-piece installment features all of the season's trendiest hues — and then some. Fuchsia, royal blue, chartreuse, orange — all the boldest colors of the rainbow are represented via of-the-moment silhouettes including jumpsuits, structured trench dresses, sheer moto jackets, cargo joggers, corset-style bodysuits, and smocked crop-tops.
"Just looking into the spring 2019 runways I got some utilitarian vibes that were a major inspiration for the collection," Ono tells The Zoe Report. "I was also inspired by the '90s. All the bright neon colors I grew up seeing and wearing are coming back. Those were the two elements I thought were going to be huge for the season, and being able to give that to the plus-size community is so great. It's so gratifying to see it come to life." (Another attractive selling point is the price price point. True to form, the ELOQUII collection is incredibly affordable, with pieces running from $59.95 to $129.95.)
In terms of fresh collabs, ELOQUII is quite the heavy hitter of late. The trendy plus-size label has been serving up style on a silver platter, enlisting everyone from Jason Wu and Cosabella for collaboration projects. So it's no surprise Ono saw the forward-thinking brand as a worthy partner with which to align. "Not a lot of plus-size brands make clothes that are on-trend right now," she explains. "A lot of brands want to stay safe and don't like to take risks. I want to change that way of thinking. I want to see more plus-size collections in bright colors and silhouettes that aren't just body-con styles and leggings. We want to wear wide-leg pants and oversized trench dresses, too!"
Along with unapologetic color, functionality was at the top of Ono's design checklist. In the same vein of the aforementioned utilitarian inspiration, small but game-changing details like secret lined pockets are incorporated into the line's outerwear. "There's a compartment for your compact and for your lipstick," says Ono. "Obviously, you know, I'm a beauty girl, so I gotta have my essentials — and I'm tired of sticking them in my bra!" For those looking for even more storage space comes the collection's pièce de résistance and token accessory: the belt bag. "I call it the glam pack — it has three pockets," says the makeup artist, explaining the compartments are designed to hold the two prior essentials as well as a cell phone ("because you always need a selfie!").
As a celebrity makeup artist, no understands the importance of presentation more than Ono. So, naturally, her statement-making installment called for a campaign and launch that followed suit … enter Beautycon. The MUA will be debuting her collection at this year's sold-out (and always over-the-top) Beautycon NYC, where Ono will be leading a conversation about the intersection of beauty and fashion. In just its fifth year, the larger-than-life festival (which appears in NYC and Los Angeles) has quickly become the choice launching pad for emerging brands, featuring some 200+ labels and accommodating roughly 15,000-16,000 shoppers. "I'm a makeup artist who loves fashion, and Beautycon is all about what's in right now and the latest trends. But, beyond that, the people who attend the event are so diverse. They come from all walks of life and in all sizes, which, to me, is so awesome. It's the perfect place for me to launch my collection. I couldn't be happier."
That's not to say you have to attend Beautycon to get your hands on Ono's colorful capsule collection. The line is officially available on ELOQUII's site and runs in sizes 14 to 28. Shop some of the neon wonders below before they sell out!