The Prada Group Is Going Fur-Free — Here's When The New Policy Will Take Effect
Mike Coppola/Getty Images Entertainment/Getty Images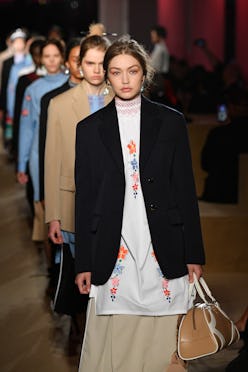 In this day and age, there are just too many acceptable — and not only that, but chic — alternatives to using animal fur in apparel and accessory designs. As such, it makes sense that a growing number of brands are opting to ban the use of the animal-derived material, as the fur-free movement continues to gain momentum. And the latest luxury house to join the ranks? The Prada Group goes Fur-Free, pledging to rid its products of any animal fur by its Spring/Summer 2020 women's collections.
On May 22, the Prada Group, which includes Prada, Miu Miu, Church's and Car Shoe brands, announced that it has officially joined the Fur Free Alliance and it will no longer use animal fur in any of its designs, apparel, accessories, and other products beginning with its Spring/Summer 2020 collections.
"The Prada Group is committed to innovation and social responsibility, and our fur-free policy - reached following a positive dialogue with the Fur Free Alliance, in particular with LAV and the Humane Society of the United States - is an extension of that engagement," said Miuccia Prada in an official statement. "Focusing on innovative materials will allow the company to explore new boundaries of creative design while meeting the demand for ethical products."
The Fur Free Alliance is a coalition of over 50 animal protection organizations from more than 40 countries, which has been a leading group in garnering industry support and commitment to the fur-free movement. After just over a year of conversations with the FFA, European animal rights group LAV, The Humane Society of the United States, the high fashion group is one of the quickest to turn around a fur ban for its house labels to join the Fur Free Retailers Program (which is over 1,000-strong).
Now that Prada Group's associated brands have made this commitment, they'll join the likes of several other luxury labels that have made moves towards more animal-friendly practices — the most recent among them is Coach, which pledged to be fur-free by Fall 2019. It's a decision that clearly positions sustainability and environmental impact as increasingly prominent priorities for the fashion industry.
"The Prada Group's decision to go fur-free is consistent with the new concept of ethical luxury and meets the expectations of new consumers who are more careful in choosing sustainable products that respect the environment and animals," Simone Pavesi, manager of the Animal Free Fashion Area for LAV, said in the press statement.
And while Prada and Miu Miu won't be pulling any existing fur products from shelves (rather, the items will be sold until inventory is exhausted), you can bet the brands' creative teams are hard at work determining the chicest possible substitutes to send down the Spring 2020 runways. Until then, celebrations are certainly in order.