The Glamorous Pajama Set You'll Want To Gift Everyone On Your Holiday Gift List (Including Yourself)
Christopher James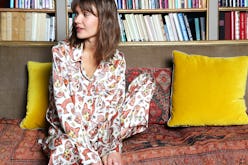 Seeing two seemingly different brands with their respective niches and specialties come together can be an interesting sight to behold, especially when said sight involves pajamas. Such is the case for the latest brainchild of lifestyle brand Karen Walker and Australian-based sleepwear label Papinelle. The two companies joined forces on a collection that combines what each house does best, resulting in an installment that's equal parts glamorous and quirky — two words you never thought you'd hear in reference to PJs.
In entering the comfy world of sleepwear, it's not exactly surprising Walker chose the luxury brand to partner with. With a loyal celebrity following that includes Emma Roberts, Jessica Alba, and Kendall Jenner, Papinelle's dainty, elegant, and sustainable take on the lounge space has definitely made waves on its own. Add in Walker's signature carefree use of print and color and you've got a collection to be reckoned with.
In an email interview with The Zoe Report, Renae James, CEO of Papinelle, said it was Walker's unique patterns that originally attracted the brand to the partnership in the first place. "We wanted to incorporate these into our beautiful sleepwear fabrications and styles that we know work so well," said James. "It was important being a sleepwear collaboration that we chose fabrics and styles that our customers love and blend them with Karen's aesthetic."
The result is a unique and interesting sleepwear installment that feels like an elevated and grown-up take on the pajamas of your childhood. In fact, at first glance, the collection looks like yet another worthy case for pajama dressing. With silky button-down blouses, chic slip dresses, and lightweight robes paired with whimsy on-trend prints and set against a palette of orangey reds, ivory, marigold, and rich browns, the collab could easily be called upon for brunch or a casual work meeting. That said, the cozy fabric and easy, breezy fits still make each piece ideal for a luxe day of lounging and resting at home.
And while the collab marks otherwise uncharted territory for Walker, it's also a departure for Papinelle, which has taken an understated and softer approach to sleepwear in the past. "This collaboration allowed us to use colour and print in a different way than our customers are used to seeing from us," explained the CEO, who noted that the print seen above was a fun departure for the brand. "We're known for our beautiful soft florals, so it's been so fun to be able to work collaboratively with another brand's aesthetic. The end result is a perfect blend of both styles."
This fresh new direction has definitely left a lasting impression on the Papinelle brand, said Nicole Kelly, co-founder of Papinelle in an email to TZR. "Working with Karen Walker has shown us a whole other colour pallet that we will definitely incorporate into future collections," she explained. "The conversational prints are also new to us and something we would love to explore more in the future."
The newly launched collection lies on the more expensive end of the sleepwear spectrum, with prices ranging from $44 for a silk eye mask to $227 for a full PJ set. This makes it a nice winter treat-yourself item for you or a loved one on your holiday gift list. Either way, any piece from the chic installment is sure to place its wearer in the lap of polka-dot luxury.