The Modern Version Of The Prairie Dress Trend Is Here, Thanks To The Outnet's New Collab
Courtesy of The Outnet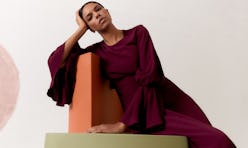 Like or not, this season's week of Haute Couture shows are drawing to a close, and you may not be ready to let it go. If you're still dreaming of ruffles and jewel-encrusted swimming caps, then The Outnet's Roksanda collaboration may be just the collection you need. Designer Roksanda Ilinčić created 17 exclusive pieces for The Outnet, and each one glows with the eponymous fashion brand's avant-garde energy.
The capsule collection debuted at the online boutique on Jan. 24. In the collection's colorful behind-the-scenes video, Ilinčić noted that she draws inspiration partly from art and architecture, and that energy can be felt scrolling through the collection. The pieces are jewel-toned, though not in the typical sense; pastel amethyst and rose quartz shades weave through the traditional ruby red and deep sapphire.
Panels of textured fabric in a bright, complementary mustard balances out the cool tones of the collection's two stand-out pieces: a $1,730 jacquard maxi dress and $1,390 silk-blend jacquard midi skirt that mimic panels of modernist stained glass.
But, while not as mosaic, other pieces in the collection are just as substantial. Just glancing at a photo of the collection's $1,125 tiered cotton-poplin dress in motion may make you swoon. Bathed in an icy mint, the monochromatic piece somehow nails the prairie dress trend while still seeming incredibly contemporary.
That may be due to how Roksanda reconceptualized the high Victorian neck. Surrounded by tiers and balloon sleeves, the neck is sleek and frill-free, fastened by a single mint button. It's a small, disruptively futuristic detail.
But the exemplary collection's designs aren't the only noteworthy detail. A percentage of the collection's sales will be donated to the non-profit Malaika, a charity founded by Noëlla Coursaris Musunka that helps provide health and education programs to young women in the Democratic Republic of Congo. Malaika notes on its website that each year of school increases a young girl's future earnings by 10 to 20 percent, and beyond hired Congolese teachers and staff the organization is run by volunteers and pro bono experts.
Malaika students are behind the collection's photoshoot and video, and if you have a few minutes, it's well worth a watch. Below, eight of the 17 Roksanda pieces you can only find on The Outnet.