Outdoor Voices Collaborated With Your Favorite Sandal Brand For Its Latest Summer Launch
Exclusive Photo Courtesy of Teva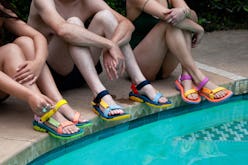 Sure, the return of '90s trends like barrettes and tie-dye was a cause for celebration. But the comeback of tourist sandals — also known as "sport sandals" or (a personal fave) "dad sandals" — is a reason to grab your wallet. You know the shoes: Those chunky, oh-so wearable sandals that beg to be paired with ankle-high white socks. And while the tourist sandal is getting plenty of attention by designers and the streetwear circle, the cult-fashion, rainbow pair you didn't know you needed just launched; the Outdoor Voices x Teva sandal is here, and the collaboration's result is just as colorful as you'd expect.
And it's still ready for any outdoor activities you get up to this summer. The collab bathes Teva's iconic Hurricane XLT2 sandal in Outdoor Voices' signature color-blocking — which means you get Teva's tried-and-true shoe technology, and the sandals will go along with any Outdoor Voices clothing you already own. (Which will make any upcoming hikes you have planned way cuter.) While Teva is known for being comfortable, the Hurricane XLT2 was a smart choice for this collab; the sandal is made out of quick-drying materials and features the brand's Durabrasion sole, as well as extra, built-in padding at the heel strap.
Retailing at $90 on Teva's site, there are two, equally-bright colorways to choose from: the warm Coral/Lilac Hurricane XLT2 or the cool tone-heavy Spruce/Lime pair. You may have trouble choosing between the two, as well. Teva shared the campaign image of the Outdoor Voices collab above exclusively with The Zoe Report — and you'll be planning future, sandal-focused outfits once you've taken a look at the colorful shoes, guaranteed.
Men weren't left out of this collab, either; Outdoor Voices' website also offers up the $90 Men's Hurricane XLT2. While the men's Poseidon/Lemon colorway may be a bit more subdued than the women's options, the deep primary shades still leave the door open for a multitude of sock-and-sandal coordination ideas.
This isn't the only new addition to Outdoor Voices, either. The brand just launched this summer's H2OV, Outdoor Voices' swim collection. So make sure you visit the brand's website to shop everything new — after you scroll down to grab your pair of Tevas, of course.
Editor's note: This post has been updated from its original version.