Outdoor Voices' New Collection Gives Its Workout Shorts A Stylish & Functional Update
Outdoor Voices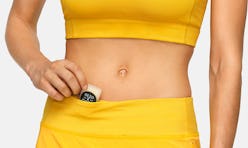 Like most people, Outdoor Voices couldn't resist a good pun. Unveiled April 11, the OV Tech collection is named after TechSweat, a fabric blend used by the fan-favorite activewear brand to keep you cool as you sweat. However, the collection's title also gives you a hint of the colorways featured — because if you're a fan of Outdoor Voices' signature technicolor athleisure, you're in luck. Even better, the recently-released collection includes a major update to Outdoor Voices' top-rated Hudson Shorts; and it's available in both the OV Tech collection's brightest shades, and the subtlest.
How could Outdoor Voices's 5-star Hudson Shorts get any better, you may be wondering? They served as inspiration for the new Hudson Skort — a $55 piece that may be even more multifunctional than the original shorts, for the same exact price. The new skort includes a zippered side pocket for valuables, as well as a pocket in the TechSweat waistband for anything you need to grab during your workout session (lip balm, headphones, maybe a printed-out inspirational quote).
And because Outdoor Voices knew that leaving your phone at home or in a locker isn't always an option, it also threw in an additional phone-sized pocket sewn into the skort's hidden shorts; which means your phone will be concealed by a pocket and the outer layer of the skirt.
The Hudson Skort is available in black and navy, as well as two of the OV Tech collection's seasonal shades: a deep green named "Evergreen" and a bright yellow called "Sunshine". The collection also features a few brighter shades of blue and green, too; you can score those colorways by grabbing the $95 TechSweat 7/8 Zoom Leggings, $65 LightSpeed Short, and the $65 LightSpeed Skort.
Or, snag yourself the TechSweat Cami Tank — because on top of the all-new skort, the brand also debuted a completely new tank with this collection. The $55 cami features a built-in shelf bra and adjustable straps, with a cropped hem that's made to hit right where the TechSweat leggings end.
Below, a sneak peek of the OV Tech collection. To shop the entire collection, all you need to do is visit the brand's website.