The Ordinary Dropped Its First Face Mask Ever & It's Just As Budget Friendly
Deciem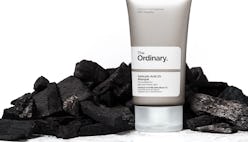 In an ever-changing world of confusing skincare ingredients, The Ordinary is a beacon of light. Just take a look at The Ordinary's new Salicylic Acid Masque: The brand uses the product description to instantly get down into the nitty-gritty of each key ingredient, pointing out that the mask is specifically made for oily or blemish-prone skin. There's no left wondering if it's right for you — especially since The Ordinary went ahead and compared it to its salicylic acid solution, a product that's been around for years. It's a no-nonsense, science-first approach that has made The Ordinary famous.
That, and the affordability factor. Unveiled June 12, the salicylic acid mask retails for only $12, making it as budget friendly as the rest of the skincare line. (That aforementioned salicylic acid solution? Currently available for $5.30.) And like everything else The Ordinary sells, the brand offers up all the details skincare enthusiasts will want to know about the mask — like the fact that it has a pH level between 3.5 and 4.5, or that the formula is made without oil, alcohol, and silicone.
But what's actually included in the salicylic acid mask? Well, 2 percent of salicylic acid, of course. Touted as a solution for acne-prone skin, The Ordinary notes online that the powerful beta hydroxy acid is excellent at exfoliating away dead skin cells (which, as you undoubtedly know, can be a necessary step to unlocking fresh, glowy skin).
The formula also includes vegetable charcoal and clay — two mask-friendly ingredients you've probably tried before — as well as squalane, a moisture-boosting ingredient naturally found in skin. Combined with the acid, the mask's formula targets uneven skin tone and texture, cleanses pores, and provides a gentle exfoliation that's safe to use twice a week.
It's an exciting time to be a fan of The Ordinary, since the brand seems to be checking off some crucial firsts. This inaugural face mask follows the launch of the The Ordinary's first cleanser in March, and news that the brand will be launching at Ulta. Til then, though, shop the new Salicylic Acid Masque by visiting The Ordinary's website or just by scrolling down.