VEDA's New Collection Is About To Make This Silk Dress A Staple In Your Closet
Courtesy of 11 Honoré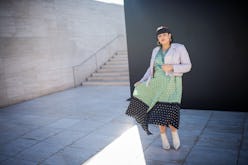 If you're not one of Nicolette Mason's 173k followers on Instagram yet, you will be soon. The influencer, co-founder of plus-size clothing brand Premme, and creative consultant (among other things) provides endless style on her feed, and while she's already made a name for herself in the fashion world, she's now diving deeper into it with her newest project, the exclusive Nicolette Mason x VEDA capsule she helped curate with VEDA for size-inclusive shopping site 11 Honoré.
You may have spotted the simple, minimalist clothing from Premme before, but if you're expecting Mason's latest venture to echo that aesthetic, think again. Thanks to this new capsule with VEDA, a New York-based company that's known for its unique leather jackets and for never being shy with color, Mason's curated collection with the brand is far from simple in the best way.
And though Mason tells TZR in an email that the designs were all VEDA's, she did play a role in choosing the perfect pieces to make the collection come together seamlessly. "I helped curate the pieces, and when it came to the Baby Jane Moto, we worked together to select the perfect shade of lilac. It's buttery soft and such a great year-round statement color."
Made up of only three pieces that come in sizes 10-20, the collection contains the essentials every fall wardrobe needs. The Baby Jane Leather Moto for $998 is a classic VEDA style that brings a beautiful lavender color into an autumn staple. Paired with the line's lime green and black Tuscan Printed Silk Dress for $478, you've got a look that'll transition flawlessly from work to drinks to even the weekend. Rounding out the collection is the $348 Nolan Alpaca Sweater, which contrasts classic black with colorful red and purple sleeves to bring some fun into a cold-weather must-have.
While each of the pieces in the collection are classic enough to be timeless staples in your closet, there are also elements of each that bring in major trends of 2018.
One prime example is the lime green color that features prominently in the capsule's silk dress. While it's a bit more muted than the neon shades that took over Instagram all year, it still brings much of the brightness and fun that the eye-catching hue is known for. And given that the Pantone Color of the Year was ultra violet in 2018, there's no denying that this collection hits the nail on the head in terms of what's trending.
As for how the collab came together, 11 Honoré's CEO and founder Patrick Herning says it was important that there was an authentic connection with the potential partner, which made Mason the perfect fit. "The whole idea of this capsule evolved from our friendship, which organically led to the creation of the Nicolette Mason x VEDA capsule – the curated assortment exudes so much personality and provides women with versatile options that weren't available to them previously!"
VEDA was founded in 2008 by Lyndsey Butler in a quest to create the perfect leather jacket. Since then, the women-owned and led label has produced women's separates, dresses, and accessories. And while most pieces on its site run up to a size XXL or a 12 (though the brand has always offered custom orders in other sizes), this new collaboration allows women who wear over a size 12 to get in on the brand's pretty, playful designs.
Luckily, the new three-piece capsule is available to shop now on 11Honore.com. And while there are no exact details on the next collection quite yet, Mason did write in a caption on her Instagram that there are more pieces and sizes "in the works."
"This is the first of many collaborations for 11 Honoré and I'm excited to see more in that department — and [I] also can't wait to see even more sizes added to their designer collections!" explains Mason when asked to shed light on what more shoppers can expect.
Keep scrolling to shop the first collection, and let the guessing begin on what else is to come.