Here's When You Can Get Your Hands On Tiffany & Co.'s Luxe New Fragrances
Mauritz Antin/EPA-EFE/Shutterstock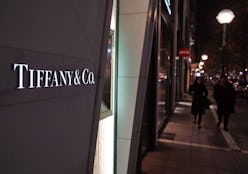 As far as finding your ideal partner goes, looking for someone whose strengths complement your own is a great place to start. Coincidentally, the same could be said for your go-to fragrance, which should amplify, accentuate, and celebrate what makes you, well, you. Even better? A duo of expertly blended scents that's specifically made with couples in love in mind — so you've both got complementary scents that are not only great on their own, but perfect together. (You know, kind of like you and your special love.) That's exactly the idea behind the soon-to-drop Tiffany & Love fragrances.
Over the many years since its founding in 1837, Tiffany & Co. has developed a reputation that's basically synonymous with love — a very luxe, very glamorous type of love at that. A Tiffany & Co. engagement ring or anniversary gift is about as luxurious as it gets, and one of the dreamiest ways to profess strong feelings to your special person. And the brand's new and first-ever dual fragrances are just as romantic.
"With the launch of Tiffany & Love, we sought to create fragrances for romantics that define love in their own way," Simona Cattaneo, Chief Marketing Officer of Coty Luxury said in an official statement. "The fragrances embody and embrace all forms of love, inspiring all to join the #LoveYourWay conversation by sharing authentic stories of personal love and connection."
The Tiffany & Love for Her and Tiffany & Love for Him fragrances, which debut at Bloomingdale's on Oct. 1, are meant to honor the iconic brand's commitment to celebrating love in all its forms, while bringing a new and modern perspective. And this fresh venture isn't just Tiffany & Co.'s inaugural dual-fragrance launch; it also marks the brand's first-ever fragrance for men, under the direction of Reed Krakoff, forging a whole new era for the brand.
"As a brand, we've always celebrated the enduring power of love in all its forms," Tiffany & Co. Chief Artistic Officer Reed Krakoff said in the statement. "Our new Tiffany & Love fragrances are a reflection of modern love and the authentic connections that reflect the strength, joy, and promise we find in one another."
The complementary fragrances aren't carbon copies of each other, but unique bouquets that happen to share a common hero note to unite them as one: majestic, bold blue sequoia. Tiffany & Love for Him combines citrusy notes with a wood base for an uplifting, yet grounded effect, while Tiffany & Love for Her's modern woodsy floral notes make it romantic and creamy. On their own, the scents are unique, unexpected, and ideal expressions of an individual — together, they're electric.
Tiffany & Co.'s new scents continue the theme of complementary partnership with their packaging. Both are housed in blue glass bottles, each tinted in a shade reminiscent of Tiffany & Co.'s iconic shade. The Tiffany & Love for Him features a black ampersand while Tiffany & Love for Her showcases a gleaming silver iteration of the symbolic logo. Placed on a vanity alone or side by side, the effect is equally elegant and impactful.
You'll be able to shop the romance-defining fragrances beginning Oct. 1. Pro tip: Start dropping some hints to your partner now for the holiday season ahead.