This Easy (And Inexpensive) Styling Trick Is So On-Trend For Spring
Shutterstock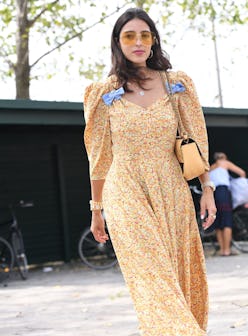 Good news for your feet: Sandal season is finally in full swing. You may have seen '90s-inspired strappy designs creep into the footwear scene on Instagram. Or perhaps you noticed the return of "ugly" sport styles at Coachella. Regardless of what iteration you're dying to try out, there's one styling trick you should employ. This spring, style your sandals with socks. Whether you've had the chance to get a pedicure or not, this simple combination is an easy way to transition into summer footwear and give your sandals a fresh feel.
This styling trick is already runway approved: Designers including Sandy Liang and Anna Sui paired sport sandals with colorful socks for their latest collections. And while it may feel like just another way to play into the dad trends this season (tie-dye and Hawaiian shirts included), the combination can feel elevated too. In fact, this simple styling trick can make a casual look feel a bit more office appropriate. Choose a classic everyday sock to tone down a bold shoe, or a more daring printed option — either way you'll be poised to nail the trend. See below for inspiration for styling ideas along with a few favorite combinations to shop.
Sport Sandals + Pop Of Color
You can't ignore that sport sandals are on trend for spring. To add oomph to an outfit, slip bright socks underneath the sandals. A muted yellow sock and multicolor crochet dress make the sandal are a fun and lighthearted combination.
Bold Slides + Thick Socks
If you're looking for a pared-down way to wear a pop of color, try styling bold shoes with black separates. When it comes to finding the right socks with these electric sandals, keep it simple and choose a simple style in black or gray.
Heeled Sandals + Sheer Socks
Choose a sheer sock and python-embossed sandal for a polished and modern combination. While mixing two colors like maroon and blue sounds tricky, coordinate your outfit to create a seamless pairing. Match a Bordeaux blazer to the maroon python shoe and a navy skirt to the light socks.
Strappy Sandals + Fishnets
Fishnet socks are a '90s throwback, which make them ideal to pair with the current strappy sandal trend. Instead of a black fishnet, look for a sock in a light rosy color. Finish with your go-to minimalist sandal and you've got the perfect night-out combination.
Floss Sandals + Metallic Socks
Yes, socks with sandals can be worn to the office. Match menswear-inspired Bermuda shorts and a fitted blazer with ladylike floss sandals and socks. A metallic sock in the same hue as the sandal makes the trend more acceptable for your 9-to-5.
Flip Flops + Print Socks
If you've been on the fence about sporting flip flops, try a fun and colorful approach and contrast blue flip flops with bright orange socks. This combination is an easy way to liven up a look that centers on a favorites pair of jeans. Lastly, keep the look feeling polished with a pretty puff-sleeve top.
PVC Sandals + Printed Tights
Get a little bit of extra use out of your tights this spring and style them with your sandals. Try paring a printed tight with a PVC sandal and generally neutral ensemble to let the fun print stand out.