The Most Popular Wedding Registry Items At ABC Carpet & Home Are So Luxurious
Zola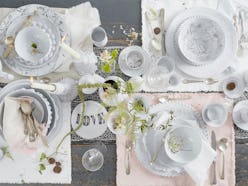 While there are certain stores everyone automatically flocks to to start their wedding registries, there are a few more under-the-radar retailers that provide unique, beautiful pieces that are arguably a lot more fun to register for. ABC Carpet & Home is one of those places. The store stocks unique home décor, and it's hands down one of the best places to look for treasures no one else will have. However, the store is known for its massive selection of goods, which can make narrowing down your selection nearly impossible. So instead of starting from scratch, look to the most popular registry items from the store for a few solid starting points.
Sometimes it seems like wedding registries only include outdated China sets and kitchen tools — but as the top 11 registry items at ABC Carpet & Home prove, that's absolutely not the case. Thanks to the store's unique (and always beautiful) offerings, there's plenty of chic and ultra luxurious décor, unusual glassware, and modern furniture that would look stunning in any home.
Surprisingly, many of the top performers for ABC Carpet & Home are furniture pieces exclusive to the retailer. One such is the Cobble Hill Delancey Sectional — a neutral, plush couch for $4,730. Another popular choice is the highLine Standard Corner Sectional that's currently on sale for $4,497, proving that it's always a good idea to add a large, luxe sectional to your wish list.
Naturally, there's also some dinnerware included in the top performers — but in true ABC Carpet & Home form, it's not at all what you'd expect. One sought-after collection is the Jan Burtz Porcelain Dinnerware in white, which is a set shaped by hand in the designer's Connecticut studio that ranges from $48 to $88 (and is dishwasher and microwave safe to boot). The abcDNA Mystic Glacier Bowls in turquoise are also a top choice, and include several water-inspired serving bowls made in Thailand that range from $38 to $48.
If you're wondering what you absolutely can't miss, you've probably already guessed it. ABC Carpet & Home's most registered item by units is the Cutipol Goa 5 Piece Place Setting in white gold — a modern, whimsical take on the classic flatware set every registry needs. The pieces are made from stainless steel dipped in white resin, and each five-piece set costs $90.
ABC Carpet & Home launched an exclusive program with the wedding company Zola in April 2018, and since then has been offering nationwide access to its collections, which many of have only been available in-store in the past. Thanks to the curated selection it offers, couples can now register for ABC Carpet & Home's many sought-after pieces, which includes bedding, servewear, furniture, and more.
Whether you're beginning your search for the perfect items to start your married life with or just dreaming of your future wedding and all the gifts you'd love to have, keep scrolling for the 11 top registry items at ABC Carpet & Home that should definitely be on your list.