These Are The Most Popular Bathing-Suit Styles From All Your Favorite Brands This Summer
FELLA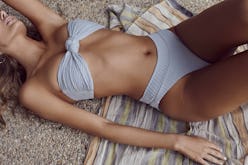 There's no denying swimsuit shopping can be stressful; before you even reach the trying on part of the process, you're first challenged with the task of narrowing in on a brand and style. On top of that, now that it's already mid-July, you likely don't want to waste any more time scrolling through what can seem like endless pages of swimwear online. Fortunately, the legwork has been done for you on this one, and the most popular bathing suits from brands you love have been rounded up for you to shop ASAP.
What's trending with customers this summer? Well, that all depends on the brand. In the mix of popular pieces you'll find everything from sleek, minimal styles to retro silhouettes in both solids and prints. Meanwhile, when it comes to color, punchy brights are definitely having a moment this year, but that doesn't mean pastels, earth tones, and neutral hues haven't been selling, too. So, no matter what you're looking for, it's likely that there's a suit below that'll catch your eye. After all, they clearly grabbed the attention of many other swim shoppers.
Continue on to see what suits have become top-selling styles from some of the most beloved swimwear brands of this season — and then, scoop them up before summer slips away.
AMAIÒ
"This summer we're thrilled to see women gravitating more toward vintage silhouettes, including high-waists, but with a more modern high leg cut," Samantha Khoury, Founder and Designer of AMAIÒ, tells TZR. "It's an aesthetic that seems to be really trending right now, although it's been part of our design DNA from the beginning," she says, adding that "so many brands are now offering these sorts of styles, but customers still turn to us for the extras: rich, textured fabrics, luxuriously soft lining, and sophisticated details."
Andie
"This summer we've been seeing a huge push in brights and customers are gravitating toward mix-and-match colors and styles," says Melanie Travis, Founder and CEO, of Andie. "We've also noticed a high demand for classic, well fitting one-pieces. The trend seems to be shifting toward silhouettes that are subtly sexy rather than overly revealing," she explains.
FELLA
"Textured fabrics are once again coming back even stronger than ever this swim season. This year FELLA has introduced three new custom textured fabrics from Europe," shares Rosie Iffla and Christine Tang, founders of FELLA. "Florals, soft pastels such as lilac and citrus as well as earthy tones of rust and nude are a big trend this season in swim," the duo tells TZR, adding that "bra styles, high-waisted, and cheeky bottoms are big shape trends for 2019."
JADE Swim
"Bright colors are a huge trend this summer," says Brittany Kozerski, Owner and Designer of JADE Swim. "Our most popular selling colors this season are colors that pop and look amazing against every skin tone."
MIKOH
"It's all about intricate details and standing out with bright, punchy colors and cool cutouts this summer," explains Oleema Miller, Co-Founder and Designer of MIKOH. "I'm also loving graphic prints and layering swim under coverups or doubling it as a bodysuit — utilizing styles as a two for one is key."
Peony
"One-pieces continue to increase in popularity due to their wearability and ease in terms of transitioning from pool to afternoon cocktails," says Peony Founder, Becky Morton. "We are also seeing a lot of girls opting for our high-waisted pant styles, which offer a point of difference with beautiful self-covered belt and buckle detailing." And Morton adds, "We find that our most coveted styles are those that balance clean silhouettes with intricate and elevated detailing, such as ruching, pintucking, or scalloped trim."
Solid & Striped
"Swimwear trends this summer are all about versatility — being able to wear it to the beach then straight to lunch covered with a matching set," says Cassie Coane, Director of Marketing and Special Projects for Solid & Striped.