How To Wear Head-To-Toe Metallics, According To The New MOSCHINO x H&M Collab
Courtesy of H&M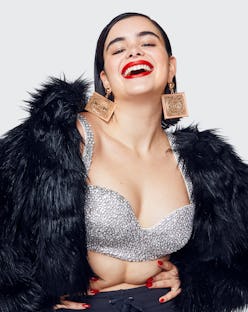 If there's one designer you can count on to bring the fun in fashion, it's Jeremy Scott. MOSCHINO's creative director is known for turning out bright, bold, out-of-the-box collections, and very soon he's bringing those talents to a popular high street store. The MOSCHINO x H&M collab finally launches in November, and now's your first chance to get a glimpse at the dazzling designs.
To be exact, Nov. 8 is the designated date for the collaboration's drop, at which point you'll be able to shop the collection online and in select stores. And as you'd expect from the daring creative director, the pieces are anything but demure. From Disney character-adorned sports jerseys to a crystal-bedecked crop top, expect show stopping pieces that you've never seen anywhere else before. In fact, that's the whole point.
"Whenever I design, I think about my friends. The MOSCHINO [tv] H&M lookbook is like a party; celebrating the fun, the pop, the creativity and the energy of the people and the collection," said Jeremy Scott in the look book's official press release. His goal with the collection is to place diversity, inclusivity, and love at the forefront, putting out unique pieces that invite everyone to get in on the fun.
With that vibrant, fearless spirit in mind, why not take this opportunity to embrace an otherwise intimidating trend? Several shots of the look book suggest a very fun theme: head-to-toe metallics. It's clear that Scott, and French fashion stylist Carlyne Cerf de Dudzeele (responsible for the look book's styling), want you to tackle the look with full force.
And the outfits make a convincing case. Throw all previously held notions about wearing metallics right out the window. Instead, wear it from top to bottom without fear, and the resulting look is fun, yes, but also unexpectedly stylish. While you may have previously considered metallic elements more of an accent – a silver shoe, or a gold handbag – making them the central focus of your look reads confident and totally cool.
It doesn't have to be by way of actual metallic fabrics, either – although the collection's gold biker jacket and silver-sequined parka certainly achieve the idea. Scott's designs for this collab provide several different ways to take on the trend. Consider, for example, the CD pattern that appears on sleek, long-line bomber jackets and bodysuits. While not outright metallic, the pieces gleam in the same way an actual CD would, evoking that all-eyes-on-me shine. Keep the rest of the look sleek and simple – think glossy black leather boots and some gold hoop earrings.
Scott also carries a bold golden-chain motif throughout the collection, which is surprisingly more wearable than you'd think. It appears as a pattern on a track suit (against an on-trend leopard print backdrop), gold beading fashioned into chains across sweatshirts and hoodies, and as actual metallic chainlink accents placed on faux fur jackets, boots, and bags.
Follow Cerf de Dudzeele's styling lead and pile the pieces on together, wearing the bedazzled hoodie with a chain strap biker bag and metal-accented shoes. Pair with black denim or slick leather pants to really show off the shine. Don't forget a chunky metallic necklace to finish the look – the idea here is that more is more.
The overriding notion behind this upcoming launch is fun, and shouldn't that be what getting dressed is all about? The collection is set to launch in November, so stay tuned for the drop date when you'll be able to try out these inspiring and light-hearted looks yourself.