The Minimalist Jewelry Brand That Your Favorite Celebs Can't Get Enough Of
SYDNEY EVAN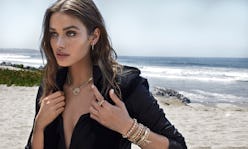 While it seems like everyday a new emerging jewelry brand catches your eye, there are also designers who've continued to churn out incredible pieces year after year that remain just as attention grabbing. And when it comes to the minimalist jewelry brands celebrities can't stop wearing, Sydney Evan is at the top of the list. The now 18-year-old brand has long been a favorite among A-listers, and given its lineup of luxe styles, it's easy to see why.
Founded in 2001 by Rosanne Karmes, the Los Angeles-based jewelry line is known for its "fine-meets-fashion" pieces that have been spotted on everyone from Rihanna and Miley Cyrus to Kerry Washington. And while the Sydney Evan's offering includes colorful beaded pieces and statement-making styles, it's the selection of simple, delicate pieces that minimalist jewelry lovers will find especially appealing.
Made of 14-karat gold and a mix of precious and semi-precious stones, Sydney Evan's stackable rings, dainty earrings, easy-to-layer necklaces, and more effortless treasures are the kinds of pieces you can wear from day to night. Take this $495 Yellow Gold and Diamond Marquis Eye Coin Necklace: You can wear it on its own with a simple tee for day, or let it be an eye-catching detail with your cocktail attire. Plus, you can have some fun layering it with other pieces like this Multi Fringe Necklace, $990, or this starburst charm style for $440.
Meanwhile, when it comes to rings, there are a slew of styles that'll play nicely with your current companions, like this yellow gold multi-stone ring with black diamonds for $265. Or, you can opt for something a little more substantial such as this mini oval pave signet ring for $1,125.
The same can be said for the earring selection, as those who seek something on the smaller side will find options like this stunning set of gold and diamond baguette and round bezel huggie hoops for $1,280. But, if you're in the market for a larger silhouette and still want it to feel sleek and modern, then, set your sights on the large yellow-gold single pearl hoops for $1,100.
Ready to expand your collection of jewelry? Continue on to begin shopping some of the swoon-worthy styles Sydney Evan has to offer.