These Were The Milk Makeup Products Shoppers Couldn't Get Enough Of In 2018
Milk Makeup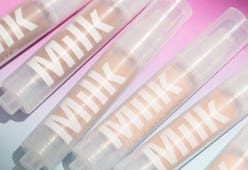 Milk Makeup isn't your average cosmetics company. In 2018 alone, the beauty brand released a lipstick collaboration with Wu-Tang Clan and turned heads with a suite of cannabis oil-infused products — and that barely begins to cover its years of innovation. So which Milk Makeup products should you buy? It's hard to pick, but shopping the top 2018 Milk Makeup best-sellers will cover all your bases.
While your mind may instantly go to the glittery Holographic Stick highlighters when you think of Milk Makeup, the list shows that its shoppers stocked up the most on basics in 2018. Four of the seven 2018 best-sellers help build a great makeup foundation: the $36 Blur Stick, the $40 Blur Liquid Matte Foundation, the $42 Sunshine Skin Tint, and the $28 Flex Concealer. Go with the Blur Liquid Matte Foundation if you like a full-coverage application, and the Sunshine Skin Tint for buildable coverage that evens out your skin tone.
Of course, Milk Makeup's now-iconic KUSH High Volume Mascara comes out on top — though you probably had no doubts about that. Formulated to condition your lashes with hemp-derived cannabis oil, the CBD oil mascara made waves when it launched last April, and not just because of its eye-catching ingredients list. The vegan formula uses heart-shaped fibers to lengthen lashes without creating clumps, with the cannabis oil filling in the fibers for extra volume. The much-loved $24 mascara landed a spot on Sephora's 2018 best-seller list, too.
Sold in Milk Makeup's signature stick applicators, the Lip + Cheek tint and famous Cooling Water de-puffer both retail for $24. Lip + Cheek shows off Milk Makeup's cool, effortless aesthetic — the color tint can be swiped on your lips, cheeks, or anywhere you want to look warm and rosy. However, if this is your first time shopping Milk Makeup and you can only pick one product, go with the Cooling Water caffeine stick; it's been a cult hit since 2016, and inspired the recently released Cooling Water Eye Patches ($22).
Below, the seven best-selling Milk Makeup products of 2018, in order of most sold. And don't forget: While the brand is huge online, you can always go to your local Sephora to test out Milk Makeup's cosmetics IRL.
1. KUSH High Volume Mascara
2. Blur Liquid Matte Foundation
3. Lip + Cheek
4. Flex Concealer
5. Blur Stick
6. Cooling Water
7. Sunshine Skin Tint