Chopova Lowena Just Launched New Versions Of Its Signature Skirts — Here's Where To Shop Them
MATCHESFASHION.COM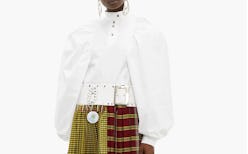 When you're on the hunt for a statement piece, there's probably a few things you're considering. You want it to be striking and stylish, you want it to enhance the simpler staple pieces from your closet, and you want it to be entirely unique — after all, a statement piece must make a statement of some kind to fulfill its purpose, right? It's safe to say that the signature tartan skirts by Chopova Lowena satisfy all of the above with totally reimagined takes on the typical kilt to a striking effect. And the MATCHESFASHION.COM x Chopova Lowena collab takes things to another level by serving up several completely exclusive designs you can't get anywhere else. These are the statement pieces you'll want to invest in, STAT.
In 2018, design duo Emma Chopova and Laura Lowena launched their namesake label, Chopova Lowena, and quickly picked up a dedicated cult following. The emerging brand relies on colorful, bright fabrics that feature traditional Bulgarian patterns plus edgy details like wide leather belts, heavy duty buckles, and hints of climbing gear like carabiners and keyrings; the result is the brand's signature statement-making piece, an entirely new take on the tartan kilt in varying silhouettes from mini skirts to midi lengths that are impossible to ignore.
For Fall 2019, the duo's taking its talents to MATCHESFASHION.COM for an exclusive launch of its cult-loved designs, presenting the perfect opportunity to invest in a statement-making style you won't see everywhere on the streets. And though the designs, which launched July 16 on MATCHESFASHION.COM, certainly stay true to the brand's precisely curated blend of Eastern European and English design aesthetic, you'll be pleasantly surprised to see a wide range of styles — so it's all but guaranteed you'll find the ideal standout piece for your closet.
Love a mini skirt moment? The MATCHESFASHION.COM x Chopova Lowena capsule allows you to choose from a few different fabrications, depending on whether you'd prefer bold, vibrant colors and unexpected patterns or something that feels a bit more classic. The Chopova Lowena Pleated wool-jacquard mini skirt, $884, showcases several tartan plaids spliced together to form a flouncy accordion fold mini skirt, complete with a buckled black leather belt and silver hardware. Paired with a graphic tee and some high top sneakers, it's the perfect nod to tradition with a edgy, notice-me vibe.
On an even more daring note, the Chopova Lowena Recycled-tapestry mini skirt, $1,133, features recycled tapestry in a vibrant black and red pattern with several silver carabiner clips inlaid in the beige leather belt. It's a total departure from a typical kilt, so let the piece really shine with a simple top and sleek accessories.
If you lean toward longer hemlines, Chopova Lowena also includes some midi skirts and even an imaginative dress silhouette in its MATCHESFASHION.COM collaboration for a more elegant (but equally eye-catching) take on its tradition of turned-on-its-head tartan. Try the Chopova Lowena Pleated recycled-tapestry skirt, $884, in an elevated color palette of black and blue plaid. It's more than fitting for your next cocktail event when paired with an impeccably tailored silk blouse and some polished shoes. And consider sporting the Chopova Lowena Tartan recycled-tapestry midi dress, $1,539, to your next work event — with its blended timeless plaids and a crisp white button-up top cinched together with a clean leather belt, it commands attention without looking completely out of touch.
Tired of thinking you've found the game-changing statement piece that'll help you stand out, only to see it time after time walking down the street? Then keep scrolling to score one of the incredibly unique items from Chopova Lowena's new collab. It's sure to be the solution to your standout style search.