L'OCCITANE's New Limited-Edition Collection Is The Colorful Update Your Winter Beauty Routine Needs
L'OCCITANE/Instagram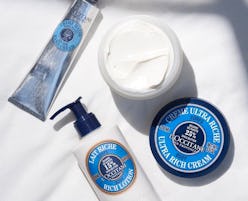 What happens when you combine the rich, effective hydration your body craves with whimsical, colorful artwork that's practically guaranteed to make you smile? That'd be the L'OCCITANE OMY Collection, a limited-edition drop of body care that just landed to lift your spirits and save your skin this winter. And with the dreary weather gearing up to stick around for the foreseeable future, timing couldn't be better. Soft, protected skin from head to toe and a significantly improved mood, right this way.
Considering the shared French heritage of Provence-based L'OCCITANE and female-founded Parisian graphic design house OMY, a collaboration between the two makes perfect sense. And launching the limited-release line, which features OMY's iconic, bright illustrations of lively cityscapes and L'OCCITANE brand imagery, right as winter gets going is a really smart move. Who doesn't need a go-to body lotion this time of year, you know?
The collection, which dropped at L'OCCITANE's boutiques and U.S. website on Jan. 7, repackages the brand's best-selling hand and body care products from its Shea Butter range in the exclusive playful designs — similar to the one featured on L'OCCITANE's Jan. 8 Instagram post introducing the collab (below). The result is a bold update that'll do your body and mind some good on winter's dreariest days.
For soft, soothed hands, grab the limited-edition iterations of the brand's fan-fave Shea Butter Hand Cream, $29, which absorbs quickly to instantly hydrate hands thanks to 20 percent shea butter, honey, almond extract, and coconut oil. Love a light scent? Snag it in the Shea Butter Ultra Light Hand Cream Violet Scent, $12, or scoop up the Hand Cream Trio, $32, to secure plenty of purse-sized hand lotion for the whole season.
Re-up on body lotion with a pot of the OMY-illustrated Shea Butter Ultra Rich Body Cream, $44, or upgrade your full routine with variety sets like the Shea Body Care kit, $74, which comes with OMY-edition Extra Gentle Soap Milk, Shea Violet Butter Hand Cream, Shea Violet Ultra Light Body Cream, and Shea Butter Ultra Rich Shower Cream.
One of the brightest ideas to come out of the collab? Several of the bundles come with a couple Sharpie markers in vivid shades, to give you a chance to get in on the artistic action — the packaging of each set is just partially colored, so the rest is up to your own interpretation. Who knows, you might just discover a hidden talent you never knew you had (at the very least, it'll help pass the time during a wintry day cozied up at home).
Protect your skin with tried-and-true body care and unleash your inner artist with L'OCCITANE's OMY collection, below.