Exactly When To Order Last-Minute Gifts From Target To Be Shipped In Time For The Festivities
Target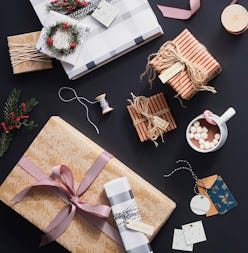 Fighting your way through a busy mall for your last-minute holiday shopping isn't fun. If you're still in need of gift ideas, or realized you forgot someone on your list, take note: The last day to order from Target for Christmas delivery is Christmas Eve itself. Well, sort of.
The one-stop shop announced on its corporate website that it's offering a variety of shipping options leading up to Christmas — and each is guaranteed to arrive by Dec. 24. Until 11:55 p.m. CT on Dec. 20 you can choose "Free Holiday Shipping" on eligible online orders for delivery by Christmas Eve. Even if you're just now realizing you forgot to buy Christmas decorations for your house — and your family is on its way — Target's free shipping is here to make the holidays a little more stress-free.
If you accidentally let Dec. 20 pass you by, you're still in luck. Target will have express shipping available for eligible items to ensure that your gifts get there on time. Simply choose the "Express Shipping" option at checkout on orders you make Dec. 21 for delivery by Dec. 24.
Trying to redefine the meaning of "last-minute shopping" and shopping for holiday gifts on Christmas Eve? Target is a judgement-free zone — but you will have to leave your house. Online orders placed by 6 p.m. Dec. 24 are eligible for Pickup or Drive Up. Though you'll need to download the Target app to place a Drive Up order, it's worth it: The free service brings your Target order out to your car and loads it in for you.
Alright, it's past 6 p.m. on Christmas Eve and your beloved, treasured family member just told you want they wanted. If leaving home isn't an option, turn to the Target-owned app Shipt, which gives Santa a run for his money. Just place your Target order through Shipt at least two hours before your local store closes, and your gifts and Christmas dinner ingredients will be delivered right to your doorstep the same evening.
"The days leading up to Christmas are some of the busiest shopping days of the year, and the Target team has worked all year to make things easy for our guests, which is especially important during the last-minute rush of the holidays," reads a quote by Target's executive vice president and chief merchandising officer, Mark Tritton, on A Bullseye View.
With all these delivery options, the only thing left is figuring out which gifts to buy. Continue scrolling for 10 last-minute Target gift ideas to get your Christmas shopping rolling.