This Kim Kardashian West Sunglasses Collab Is Getting A Second Drop — Here's When It Launches
Courtesy of Kim Kardashian West x Carolina Lemke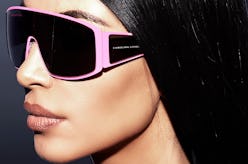 It turns out Kim Kardashian West's law firm apprenticeship and upcoming shapewear brand aren't the businesswoman's only plans for summer 2019. On June 28, the sunglasses brand Carolina Lemke announced that the second drop from the Kim Kardashian West x Carolina Lemke collection would be arriving soon — as in, July 10. And in typical KKW fashion, the mogul has already teased the two new silhouettes via her official Instagram account.
"I am so excited for these new releases from my collaboration with Carolina Lemke. These two shapes are perfect for summer looks, either with a big shield for a major statement or a new '90s-inspired oval for something a little more subtle," Kim Kardashian West herself explained in a press email. "I actually brought both of these pairs with me on a recent vacation. They were amazing — they went with everything!"
Naturally, a vacation photo posted on Kim Kardashian West's IG shows she paired her soon-to-be-released oversized shield glasses with a dark bikini for a minimalist yet beachy look. You don't have to be into the black-on-black colorway to get in on the frames, either: Named Gemini (which just so happens to be Kanye West's astrological sign), the statement shades will be available in a matte black, gold, highlighter green, and neon pink.
The blocky shades will be accompanied by a sleeker frame named Sand — which will be the collaboration's take on the tiny '90s glasses that've successfully dominated the fashion stratosphere. The colorways for the smaller frames will be subtler as well, featuring a shiny black, silver, and light gold, plus a matte purple.
Fortunately for shoppers, the affordability of the first Kim Kardashian West for Carolina Lemke drop hasn't changed one bit. Like the inaugural frame collection, both upcoming silhouettes will retail for $90 apiece. The only downside to such inexpensive prices? Both new sunglasses may sell out, like select styles from the first collection.
However, you do have the upper hand by knowing when and where to shop — so go ahead and set any reminders you need now; the Gemini and Sand sunglasses will launch on CarolinaLemke.com 11 a.m. ET on July 10.