Meghan Markle's J.Crew Boots Are 40 Percent Off For Black Friday
Eddie Mulholland/WPA Pool/Getty Images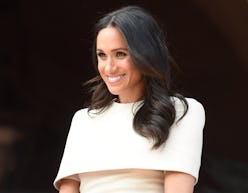 The biggest shopping day of the year is mere days away now and everything you've been lusting over this season is about to go on sale. Lucky for you, J.Crew's Black Friday sale started a bit early, allowing you to snag a pair of Meghan Markle's suede booties for the folks on your list — or, let's be honest, for yourself — at almost half-off. And you better get involved while you can, because this sale actually ends before the big day even begins.
Remember when people went wild over those super-affordable boots the Duchess wore during the second day of her Australia tour? Well, they're even more budget-friendly now, courtesy of J.Crew's 40-percent-off sale. Unfortunately, the exact black boots she sported with her sleek jeans-and-blazer combo sold out almost immediately — to no one's surprise — but they are, however, still available in two other winter-ready hues. You won't even have to battle Black Friday crowds or show up at the store at all to get these must-have shoes (and so many others), because you can buy them online for just $107.
The brand must be feeling particularly cheery, having launched its Get Together event before people have even eaten their turkey this year. On Mon., J.Crew slashed prices on a whole slew of things that have probably already been sitting in your virtual shopping cart all season long. Time is of the essence, though, because the sale of the season ends online and in stores at midnight on Thanksgiving Day.
For a brief time, the promotional code TOGETHER will get you 40 percent off full-price wool coats, trend-forward bucket bags, wintery boots, and everything in-between. Thanks to the massive sale, you can get a discount on a cashmere scarf for the office friend on your list or a flannel pajama set for your mom. Of course, it wouldn't be a successful holiday shop without getting a little something for yourself, and there are plenty of cozy sweaters and cold-weather accessories to restock your own wardrobe with, too.
In addition to its many 40-percent-off items, J.Crew is also running a Golden Deal promotion, offering 50 percent off select items daily until midnight on Thanksgiving with the code GOLDENDEAL. Needless to say, you need to start ticking off those holiday boxes ASAP while supplies last. Head to J.Crew or the brand's online store fast to snag Meghan Markle's go-to booties and other on-sale items, ahead.
Shop The Sale