The Handbag Bella & Gigi Hadid Both Own Might Surprise You
Vittorio Zunino Celotto/Getty Images Entertainment/Getty Images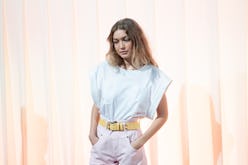 The sisters Hadid are vacationing in Mykonos and, while they're at it, sharing clothes. It's one accessory in particular, actually, that Gigi and Bella Hadid are loving: that pink handbag with the beaded handle by Cult Gaia. You've probably already seen it on Instagram.
You have to wonder what packing is like for a high-fashion model — or in this case, two of them — headed on an elaborate vacation. One Louis Vuitton suitcase dedicated exclusively to swimwear and another Fendi duffle full of accessories (you know, silk head scarves, straw hats, and statement bags), one might assume.
In any case, Gigi and Bella Hadid (as well as Bella's bestie, Fanny Bourdette-Donon) brought no shortage of all the above along on their Greek island jaunt. The trio has been flooding social media with dreamy vacation photos, in many of which you can see the siblings sharing accessories.
In Gigi's latest slideshow of her showering al fresco, for instance, she's wearing the same head scarf as Bella in the previous photo. Another statement piece that keeps cropping up in their off-duty photoshoots is a certain bubblegum-pink satin shoulder bag.
Cult Gaia's Gia bag is big enough only for the essentials and defined by a handle made of mahogany beads in varied shapes and sizes.
During one of the model duo's night out on the Grecian coast, Gigi carried the statement bag over her shoulder. She wore white biker shorts with a monochromatic breezy ribbed top and sandals.
A day after that, Bella posted a photo of herself and Bourdette-Donon posing at sunset, and the bag was sitting beside her on the stone wall. Whether Gigi left it there to snap the photo or Bella was taking a turn with it remains unclear.
Despite who the bag actually belongs to, it's been verified by the trendsetters as a go-to vacation staple. Pack it on your next trip to the beach or wear it to weekend brunch.
Cult Gaia's Gia bag and others like it, ahead.
Shop The Look