Why This Stylist Only Used Men's Hair Products Backstage At Thom Browne
Imaxtree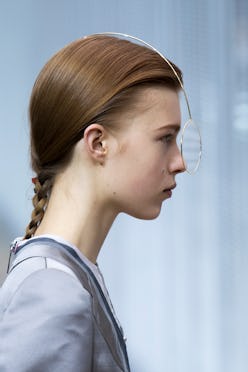 Clothes don't define your gender. And your beauty doesn't, either. In fact, the inspiration behind the hair and makeup at Thom Browne Fall/Winter 2019 was "a handsome boy" — even though all of the models were women.
"The inspiration came from Thom, and he said that women are the new men," lead hairstylist Eugene Souleiman tells me backstage at the show, held at Paris' National School of Fine Arts. "For me, men really don't wear their hair like this anymore. They have a very different way of wearing their hair. I wanted to do something that made the women feel not just beautiful, but almost handsome. Instead of a gentleman, we're doing a gentlewoman." Souleiman's take on the "gentlewoman" included a defined part with just a little bit of lift at the root. "I wanted to do something that felt considered... nothing rough or vulgar, very tailored," he says. "Not pared-down, but simple and really well-crafted. It's not about getting it to look raw or wild or abstract or anything like that. It's really about doing something that's very groomed and perfect."
To make sure that the look checked all of those boxes, Souleiman's team was very specific in terms of the products they used from Wella, which sponsored the hair for the show. "We haven't used any women's products, since we're doing men's hair for women," he reveals. "We're using pomades, and that's really it." Wella Texture Touch, a matte defining paste, was the hero product of the afternoon, providing "satin shine." It was important for the hair not to look too shiny or wet-looking, he says, as the collection is wool. A high-gloss finish would have worked against the collection, not with it.
Models with longer hair lengths got braids, and those were tucked into the collars of coats or jackets to "make them feel a little bit like Clark Kent," Souleiman says. "They all have that sleek feeling through the front, and that's what it's about for me." Models with natural hair had their curls pressed out and slicked back, too, or had their Afros misted with water and combed out for a "clean, light, and airy texture" for a fluffier shape.
Lead makeup Mark Carrasquillo, for MAC Cosmetics, also kept things sharp and sleek, as he had an "Eton College boy" in mind for his vibe. (Eton College is located on Windsor, England, btw.) "We wanted to do a big, strong brow... but I didn't want it to look drawn on where it looked like an 'Instagram brow' or anything like that," he says. "It's a beautiful version of the girls' brow, just bigger and darker and beefier than we would probably go normally." For attention to remain on the arches, Carrasquillo used very little foundation, aiming for a soft matte complexion. And as for lips, he left the girls with their natural color, only patting on a bit of moisturizer. "I always think that British boys have that pinky lip," he notes. "The pink gives it a little bit of realness, also. And if girls are too pink, we try to pat the color down... we don't want it to look too pretty."
For a boy brow (with no gel), Carrasquillo preferred Studio Fix powder and black pigment only, which helped with creating a blurred shape. The tails of the brows were extended towards the perimeters of the girls' faces — no concealer underneath the arches, or contrasting shades to set them. "I wanted it to feel real," he muses. And good brows go a long way, no matter what your gender is.