The Shimmery Eyeshadow Look To Try If You Hate Glitter, Courtesy Of Giorgio Armani
Vittorio Zunino Celotto/Getty Images Entertainment/Getty Images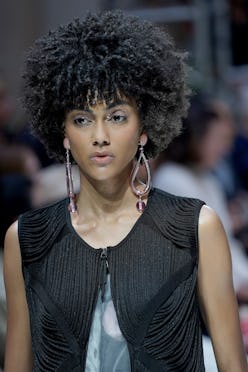 You wouldn't necessarily place the house of Armani in the "experimental" category — because honestly, you don't have to. The legacy of the brand speaks for itself, and the makeup at presentations, in return, is just as classic. But not in the era of Euphoria. Giorgio Armani's Spring/Summer 2020 makeup — which heavily revolved around sequin-covered eyelids — could've easily been seen on Jules Vaughn and her crew.
"The theme of the show is all the elements of nature," Johan Lundin, Innovation Director at Giorgio Armani Beauty, tells TZR backstage in Milan on Sept. 21. "You see tons of earthy tones and watery tones. We're working around that theme. Also, since the show is outside, we wanted something that reflects the light like water. We also wanted sequins that come from the embroidery that you see on the gowns."
To make sure that the translucent sparkles really stood out, artists kept the skin is very luminous by mixing Prima Glow-On Moisturizing Balm with Designer Lift Foundation to create the effect of a tinted moisturizer. Then using Color Sketcher, an "all-purpose product for lips, cheeks, and eyes," Lundin describes, the backstage pros used shade No. 9 around the eye and No. 5 on the lips, finishing with a few coats of Eyes to Kill Classic Mascara. As for the sequins, they were applied with a bit of eyelash glue on the back. And if the look seems carefree to you, it's because it was applied as such. "That's important in the way we do makeup at Armani. We don't cookie cut — you know, see an image and stick it on [like the photo]," Lundin confirms.
Linda Cantello, Giorgio Armani International Makeup Artist, says that this new, freer take on beauty might be the standard for the brand... to an extent. "I'm getting bored with [light makeup]," she tells TZR. "I like the fragility of everything — it's very floaty, and airy, but still Armani-esque." And while you might not see Mr. Armani send all 72 models down the runway with, say, 72 different looks, Cantello confirms that the brand is slowly and surely leaning into statement makeup — their way. "This is very much his train of thought. To me, when it looks too hard, it doesn't look real. And so many people try very hard. In our day and time, it should be effortless."
Hence the light kiss of shimmer on the lids at the show — because after all, "you don't really see them until you turn. Anyone can do it — we just stuck them on 72 girls in two hours. [Mr. Armani] hates glitter, anyway. I don't do a full-on glittery color eye or lid here," she says. "Mr. Armani has always been very minimalist in everything. He always talks about the woman. And giving a subtle accent of something taken from the show — literally, you'll see it on the runway, it's just a reflection — is kind of a cool take for Mr. Armani."