Everlane Just Opened A New Brooklyn Location & It's As Cute As You'd Expect
COURTESY OF EVERLANE/GUILLERMO CANO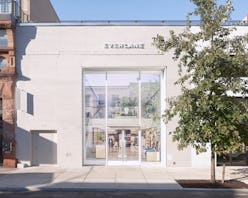 As much as you may love online shopping, there's still nothing like walking into a store, trying on a piece that catches your eye, and purchasing it right then and there. That said, the IRL retail experience can potentially mean you'll face lines of shoppers snaking around the store, which needless to say, can really put a damper on the thrill of scoring your fall fashion finds. But luckily, when it comes to the new Everlane Brooklyn location, you'll be able to bid farewell to the long wait thanks to new in-store features which will make shopping the brand even more enjoyable.
Opening its doors on Sept. 12, the Williamsburg store is the direct-to-consumer brand's largest space to date. In fact, the Brooklyn shop is twice as big as Everlane's other NYC retail location on Prince Street and features 4,400 square feet of retail space. And you know what that means? More shopping potential, of course. A 20-foot-tall glass facade will allow for plenty of natural light to stream in as you peruse so many of the brand's beloved core classics and new arrivals.
After you scoop up your favorite knits, tees, denim, and more, you'll find there are double the number of fitting rooms (12 in total) in this Everlane location to slip into as well as more checkout counters that'll help to lessen your wait time. On top of that, the brand is introducing a new fitting room system called Save My Spot, which will allow you to have Everlane hold your selects and your place in line so you can continue shopping until you receive a text that your room is ready. Sounds pretty nice, right?
In addition to its offering of womenswear and accessories, the latest Everlane location serves up loads of styles you can snag for your favorite guys, too. The Williamsburg store has dedicated an entire floor to its Men's Shop, which means shopping for the men in your life just got that much easier — especially considering the brand just launched its new Uniform collection.
So, whether you live in NYC or will be traveling to the area soon, add Everlane's Brooklyn store to your list of must-see shops.