This Basic White Tee Has More Than 1,000 Glowing Reviews — & It's Only $18
Everlane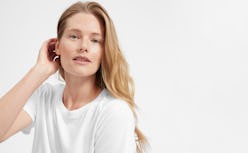 The concept of the perfect white T-shirt is often seen as one of those elusive items in fashion. And while each person has their own set of preferences when it comes to fit and feel, you'd be surprised to discover how often the hunt for the holy grail of basics is discussed. However, most people don't have the time to sift through all the white T-shirts for women given the overwhelming amount available. Luckily, there are a handful of options people are simply raving over to help you narrow it down.
There are a lot of factors to consider when shopping for a white T-shirt: fabric softness, neckline, sleeve length, and of course, the overall fit. And whether or not you know your exact preferences, it can be hard to determine which ones you'll like simply based on images and product descriptions alone. But with the help of the Internet and generous shoppers before you, you can look to online reviews for a better idea of how it'll look and feel before you buy it.
Let's be honest: When you have several people gushing over a single item of clothing, you know it's going to be good. Case in point: Everlane's Cotton Box-Cut Tee, which costs $18. With an average rating of 4.67 stars based on more than 1,300 reviews, it's clear that this T-shirt is one you should have in your closet.
If you're looking for other affordable options, the $16 Northside Vintage Tee by Madewell has a 4-star rating based on 203 reviews. (One shopper even claimed they were buying it in every color.) For those who love a shrunken fit, you can't go wrong with this. And if you prefer a V-neck, Halogen's Modal Jersey V-Neck Tee — which is on sale for $16 and has 4.1 stars based on more than 645 reviews — will be an ultra-soft option you can wear with literally anything. Shoppers also love $90 The Tee from rag & bone/JEAN, agreeing that the price tag is warranted — and with a near-perfect rating, it's definitely a worthy contender.
Scroll down to see more of the top-rated white T-shirts on the market to help you find the one you'll want to go back to again and again.