Why Essie's New Nail Polish Line Will Replace All Your Old Shades
Essie / Instagram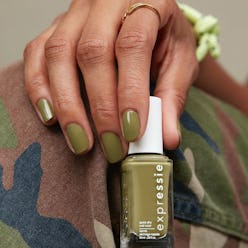 If you were expecting just a typical holiday nail polish collection drop from Essie at the end of the year, think again. In addition to its winter 2019 lineup of festive new shades, the brand went one (major) step further and released an entirely new formula in December. Enter: Essie Expressie, a new quick-drying polish that brings with it an updated design and a slew of unexpected shades.
"With quick-dry polish being the fastest growing category in nails, we found that this is something our essie fans have been craving," Essie's marketing team tells The Zoe Report in an email on why this was the right time for the brand to launch the new line. "Some may not have the time for a longer, in-salon application process, or want to change their polish color more often (even while on-the-go), so this makes at-home manicures much easier and quicker to achieve."
And quick, it is. The polish (which is Essie's first new formula since 2017, by the way) promises to dry in "about a minute," according to the brand, and needs no base or top coat. And it's not just the formula that contributes to its speediness; the design helps make for fast application as well.
That's thanks to a couple of different elements. First, Essie ditched its classic bottle for a taller, sleeker model. "The slimmer bottle was designed to be easier to hold in your hand, allowing for quick application whether you are at your home or on-the-go," says Essie's marketing team. Then, the brand created its first-ever angled brush to go with it, which is designed to give users speedier and more precise application, even when using your non-dominant hand.
Given that Essie decided to give you all-new-everything for this line, it makes sense that the 40 debut shades for it were pretty unexpected as well. In fact, instead of launching the trend-forward, statement-making colors it's known for frequently putting out, the new lineup is surprisingly subdued.
"essie has always been a pioneer in having rich and diverse color offerings, so we're excited about this curated shade range that includes a mix of brand new, 40 season-less, unconventional colors with a year-round appeal," Essie's marketing team tells TZR. "These hybrid hues flatter all skin tones."
And in case you were wondering, the brand's marketing team confirmed that it's entirely possible that there are more colors for the new formula on the horizon. "There is a chance you might see more shades of expressie in 2020!" they tell TZR. But until then, there are 40 brand-new hues to choose from now — so keep scrolling to start shopping a few, and head over to Essie's site to see them all. Your weekly manicure's about to get a whole lot easier.