The Trends Women Across The U.S. Won't Be Wearing Six Months From Now
Shutterstock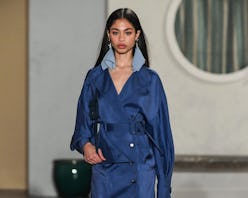 Unsurprisingly, New York and Los Angeles tend to get most of the credit when it comes to style influence across the country. Yes, they're fashion capitals, but not necessarily the be-all, end-all authorities on what trends feel most relevant at the moment. And furthermore, neither The Big Apple nor La La Land experts can likely pinpoint what a shopper in, say, Portland or Charleston wants to add to her closest next. But thanks to boutique owners and buyers from East coast to West, it's possible to get a more holistic view of which emerging trends will be popular across the U.S. in six months time.
With a whole season of new ideas ahead, as presented on the runways of Fashion Weeks as well as on smaller stages, the local boutique owners below weighed in on which pieces they'll be stocking on their shelves as well as which ones customers won't spend money on. And while the findings might prove some trend exceed geographic barriers (suiting, in particular, was a winner nation-wide) there are certainly differences that can be appreciated from Atlantic to Pacific. The good news is that no matter where you call home, you'll find some cool (and under-the-radar) styles to add to your shopping list for the months ahead.
Frances May — Portland, OR
In: Tweed, plaid, and practical handbag options
Out: Super mini or super oversized bag, statement tees
Pamela Baker-Miller, owner and creative director of Frances May says her team is typically looking at new trends every six months and selecting what makes the most sense for her customers. For fall, this meant making some unexpected choices, but not at the expense of pushing in an impractical direction. "The Fall/Winter 2019 trends we did not like were the oversized or itsy-bitsy bag. A working woman needs a working bag, just sayin'," confirms Baker-Miller, also adding that she won't get behind statement T-shirts, either. "We prefer to share our political views through the trend of inclusion and non-binary clothing," she adds.
With this in mind, the trends you will find at Frances May come fall appeal to customers who appreciate a strong silhouette. "Oversized tweed outerwear with large lapels, boxy shoulders, and matching trousers is a big yes in our book," she says. "Who doesn't want to look like a young Michael Caine?!"
McMullen — Oakland, CA
In: Suiting, pleated skirts, and deconstructed trenches
Out: Asymmetry
"I'm very excited about fall and the suiting in plaids, checks, and houndstooth," says Sherri McMullen, founder and owner of McMullen boutique, specifically calling out the Nina Ricci runway show which paired the looks with playful, oversized cloche hats. Furthermore, she adds that pleated skirts and deconstructed trenches are also expected to be big for fall. "We will do them in moderation," the boutique owner explains.
As for what you won't find among her selection: anything lopsided. "The asymmetric necklines and one shoulder dresses feel dated after seeing them for years," opines McMullen.
Hampden — Charleston, SC
In: Tall, scrunched boots and khaki trenches of all varieties
At Charleston's Hampden boutique, owner Stacy Smallwood says fall's footwear trend of choice will be the tall boot. "Whether you are wearing a mini dress that shows off your legs with a boot that hits right at the knee boot, rocking a '70s vibe with a long skirt and hiding the boots underneath, or tucking your skinny jeans back into your boots, you are going to want to get a pair of knee high boots to freshen up your wardrobe," she advises. She's specifically keen styles by Instagram-loved brand Paris Texas and Alexandre Birman.
"Another trend we are sure to see people embrace is a classic khaki trench," continues Smallwood. Though she admits that this timeless piece is never truly out per se, it's getting a fall refresh. "We are going to see so many different versions for FW19. From statement-making Japanese brand, Sacai, to a new brand making waves out of Copenhagen, KSSL, everyone has a version that is sure to make the perfect finishing touch in your wardrobe."
Fred Segal — Los Angeles, CA
In: Colorful suiting
Out: Skinny sunnies and cowboy boots
"This fall there will be power suits everywhere in a sea of unique colors," predicts, Ashley Petrie, vice president, merchandising and brand development at one of L.A.'s most famous boutiques, Fred Segal. She says to expect this rainbow hue of tailored pieces to be styled with an unexpected shoe and bold handbag, as to move away from the traditional idea of what suiting looks like.
"What you won't see are skinny sunnies or cowboy boots," adds Petrie. "Sorry ya'll."
Assembly — New York, NY
In: Tie dye
Out: Anything boring
When asked what trends Assembly New York (which also has a location in L.A., as well) will not be participating in for fall, founder Greg Armas makes it clear: "Nothing boring!"
Of course, this makes even more sense once you understand how Assembly decides which pieces speak best to their customers. "Personal style right now is about not taking yourself too seriously; mix-matching prints and staying playful," Armas says. It's not about avoiding basic pieces, but building a wardrobe where you can style them creatively.
"Fall collections from Collina Strada, Sandy Liang, and our own Assembly label, alongside our vintage selection, will be important for maintaining variety," explains Armas, calling out one specific bold motif that will continue to be popular through autumn: "Already we cannot keep up with demand for tie dye, for sure clients will be gravitating towards these more emotional prints all year."
Need Supply — Richmond, VA
In: Full coverage dresses and long puffer coats
Out (or rather, slowing down): Traditional animal print
Fall 2019 will see a shift in shape popularity, explains Need Supply's divisional merchandise manager, Esther Min, "from demure, vintage dress silhouettes to full length outerwear." Min says that more modest hemlines and necklines will rule, particularly from brands like Batsheva, Lee Matthews, and the boutique's own in-house line, NEED. "In outerwear, the long puffer will be the essential, functional, fashion choice for our woman's wardrobe," she adds. "You'll see this from a few brands including a few brands exclusive to Need Supply like Stelen and Farrow."
When it comes to trends that won't be as popular, Min suggests that this past fall's wildly popular animal print trend won't be leaving, but it will take on a bolder color way. "We're standing for the more artful, colorful versions that felt new and fresh," she says.