The Creative New Year's Resolutions Successful Women Make Every Year
Vanni Bassetti/WWD/Shutterstock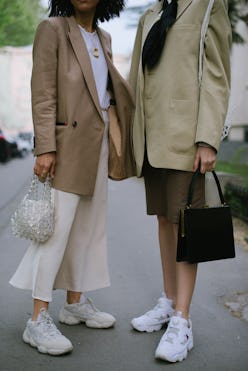 One of the best things about the New Year is how it signifies a fresh start and the hope of success — both personally and professionally — in the days ahead. Forming a list of resolutions is tradition, but perhaps more important than the goals themselves, is sticking to them. Career-minded women know that creative New Year's resolutions centered around setting specific goals is paramount for the wellbeing of themselves, their occupation, and those around them. After all, their careers wouldn't even be in existence without the initial game plans and steps that brought them to fruition.
"I am absolutely where I am today because I believe in the power of setting your intentions in order to reach your goals," explains Sydney Holland, co-founder of The Urban + The Mystic. "A dream is just a goal that you gave a plan of action. A resolution, for me, falls under the same umbrella."
One thing that motivated women have in common is that the goal-setting is never done. "I make resolutions daily," adds Holland. "I am the type of person who constantly needs to be creating new goals for myself both professionally and personally." Another point to keep in mind? When an opportunity presents itself, take it. "Many times, we like to think long and hard about what we should do or what options might be better or whatever else we can analyze in our minds," says Eunice Byun, founder and CEO of Material. "But I've found that sometimes, it's as simple as identifying the open door in front of you and then walking through it."
Ahead, see what five high-powered women are resolving to do in 2019. From personal growth to business-related goals, these founders and CEO's have all had success — and they're just getting started. Whether your ambitions include starting a business, spending more time "unplugged," or asking for a raise, you can take their advice while staying true to you.
Ariel Kaye, Founder And CEO Of Parachute
Resolution: Take a tech break.
"I started using an alarm clock and charging my phone outside of the bedroom. This was much more challenging than expected, but the payoff has been amazing. Not only do I sleep much more soundly without the blue light from my phone, but I've started to read at night before bed. Win win!"
How she stays on track: "I've found it most helpful to identify mile markers to track progress and note successes. Achieving long-term goals is great, but daily and weekly accomplishments is where the real success lies. The little things add up!"
Eunice Byun, Founder and CEO of Material
Resolution: Bet on yourself.
"In 2017, my resolution was to bet on myself. I was about seven months into a new role that was full of a lot of responsibilities and challenges. At the time when I was setting my yearly mantra, I was envisioning a year where I was going to double down on myself, knowing that I was more than capable of whatever came my way. Little did I know that it would ultimately lead to my friend, Dave, and I getting our seedling of an idea funded by some amazing investors, and the start of our company, Material."
How she stays on track: "I find a way to incorporate my mantra into my passwords. Imagine how many times you are logging into your computer or your email on a daily basis. Each time that I log in, I'm reminded of my personal goal for the year."
Suzie Welsh, CEO & Founder Of BINTO
Resolution: Focus on company growth, measured in numbers and team building.
"Rather than resolutions, I like to set some personal goals for the year ahead. In recent years I've found that by focusing on goals, I get less stressed and feel that the new year is about opportunity and not about being hard on myself."
How she stays on track: "I make vision boards and I display them in my house and at the office. It's such a good way to visualize my personal goals for the year ahead. This year we hit a lot of our company goals. I really think the visual reminder of those vision boards helps you push through tough days and months."
Resolution: Be more present in my professional and personal life.
"Currently, one of my top resolutions is that I want to be more present; present as a mom and as a business owner. I know I'm not alone in this one, as there as so many working moms out there, and I believe the dedication to both facets of our lives feed into each other deeply. From my twin boys becoming more communicative, to my company starting to cross-collaborate with brands we respect, enjoying all of this is only possible when I'm present."
How she stays on track: "I am a strong believer in vision boards, writing down my goals, and a daily gratitude list. This one simple practice makes your days better and your goals easier to achieve. It may sound corny, but if someone was going to implement one new thing to their daily life this year, hands down my answer would be 'gratitude.'"
Sonja Winther, President Of Chantelle
Resolution: Practice gratitude to others and yourself.
"Remember to acknowledge your progress along the way, and to thank those who are helping you achieve your goals. Gratitude towards yourself and others is always the most fruitful foundation from which to grow. [At Chantelle it's] critical for me to create an environment of encouragement and growth."
How she stays on track: "I write down, at most, three goals. This way, I can stay focused. I also share them with a friend ... it helps me to stay accountable. I keep two types of journals: one that's more like a diary, and one with inspiring quotes from books or articles that I read so I can access them easily when I'm looking for inspiration."