The "Cool Girl" Brands That Are Taking Over NYFW
Courtesy of The Marc Jacobs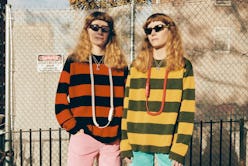 If you frequent any fashion-obsessed place on the internet including this very website, you've heard the term "cool girl" to describe a young, emerging brand. At first, it sounds vain — and way too broad to be truly descriptive. But when you take a look at the likes of Sies Marjan, Area, and Collina Strada, it becomes clear that maybe for 2019's most up-and-coming fashion brands, "cool girl" really is the best way to describe the inherent, fundamental commonalities they share, while all remaining aesthetically unique.
Landing on exactly what those commonalities are isn't as clear cut, but for starters, "cool girl" brands are typically coastal and have a firm handle on how to communicate with their young, creative consumers through social media. They also focus on the potential of personal styling, ensuring any and every piece can be mixed in with someone's pre-existing wardrobe — because presumably, real "cool girls" don't need to copy a full look to get dressed.
And while the term is often reserved for newer, emerging designers, there are surely still established brands embodying the look and feel authentically. Back in May, Marc Jacobs unveiled The Marc Jacobs, a new line of ready-to-wear, bags, shoes, jewelry and accessories, all meant to celebrate the eclectic and individual approach to getting dressed. The collection is filled with delightfully off-kilter pieces, from smiley face sweaters and graphic tees reminiscent of a late '90s dELiA*s catalogue to romantic blouses and tailored corduroy trousers. It also boasts a true contemporary price point; it's significantly more affordable than Jacobs' main line, an important distinction when targeting a younger shopper. It's high and low, and it's very Marc Jacobs.
"We wanted to do something that is unlike the collections we are already doing, in that it is more 'item-y,'" said Jacobs in a press release when the brand launched. "These items are things that you could put together in your own way; it's more about personal styling than about having a full runway look."
The identity for the new collection seemingly hinges on the importance of personal choice, with its debut campaign featuring a diverse cast of young models in banal scenes; be it on a dingy overpass bridge in Manhattan's Lower East Side neighborhood, a school football field, or a parking lot. The models themselves don't look done up, but rather, they wear natural makeup — a look that doubles down on the inherent effortlessness of potential cool customers. They're not overly exaggerating their smiles (if they're smiling at all) or making commercial catalogue poses or faces. They just look like your typical, stylish, young creatives who you can find on just about any New York City block.
One may draw that Jacobs leaning into this aesthetic was opportunistic given just how popular that identity has become today among rising brands, but it's nothing new for the designer. Looking at The Marc Jacobs collection, it's easy to find direct comparisons and a similar energy to what catapulted the designer: his infamous 1993 grunge collection for Perry Ellis, one that led Jacobs to be fired. Both collections embody the attitude that dressing is about individual perspective, not fashion as defined by anyone else.
"I think The Marc Jacobs collection offers something to everyone, while still keeping true to his brand," Caroline Maguire, Fashion Director of Shopbop, tells TZR. "The collection resonates with so many different customers, from youthful, quirky styles to more tailored, timeless pieces, it's an eclectic mix with cross-generational appeal." It's a quality that Maguire says is true of other Shopbop brands that are often lumped in this "cool girl" category, like Miaou, Ganni, and Sandy Liang.
"From Sandy Liang's deconstructed jackets, to Ganni's timeless silhouettes, and Miaou's perfectly-tailored pieces, they are the pieces you want to have in your closet, or raid from your friends," she adds.
But what is it about the brands themselves, outside of the clothes, that give them this similar appeal? According to Margaret Austin, womenswear buyer at Opening Ceremony, one of the original fashion discovery destinations of today's generation, it's less of one straight answer, and more of a formula.
"'Cool girl' is a subjective way to define a brand's audience, but I feel that what unifies brands such as Area, Eckhaus Latta, Nicole Saldana, and more is how they are able to maintain a balance between exclusivity ... limited distribution, elevated products, and inclusivity [in] casting for their shows and brand ideals. It's a balance that is a part of Opening Ceremony's ethos, and is what draws consumers into the store," Austin adds.
In today's world, where wearing your identity — along with your personal, political, and cultural convictions — on your sleeve is not only welcomed, but encouraged, it makes sense that The Marc Jacobs and this new class of emerging designers are embracing this aesthetic. The caché of a real, raw, and love-it-or-leave-it perspectives is winning over the hearts and support of young, creative consumers — and subsequently, the industry at large.
"I think the main reason for the recent growth in young creatives is the relatively newfound alertness and concern for social issues," Hillary Taymour, founder and designer of Collina Strada, tells TZR. "Years ago, the only people willing to deliberately shop ethically were those in the know who were willing to sacrifice a look for environmental well-being. But now, it's become more accessible to visibly show what and who you value through clothes."
Increasingly, younger audiences actively consider a company's values when making a purchase. Brands succeed by presenting a mission or a perspective that people can align themselves with and latch on to. That could mean championing social issues, taking cues from the music and art of the time, or embracing the limitless potential of individual style. It seems the most important quality of these "cool girl" brands is that they're definitively and unapologetically themselves, even when who they are might not equate to mass-appeal — or in Jacob's case, even keeping a job.
In the end, these brands — and the designers behind them — do what they want, and they find community in customers who do the same.