Ditch The Off-The-Shoulder Drape, This Is The Freshest Way To Wear Your Coat This Season
Dimitrios Kambouris/Getty Images Entertainment/Getty Images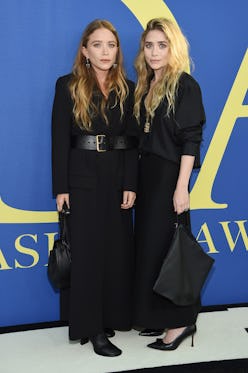 Coat season is back, and so is the urge to buy new styles in bulk. If there's one thing I've learned in my thirty-something years of fashion fanaticism, it's that employing savvy styling tricks can breathe new life into timeless staples and satiate the desire to buy all new pieces every season. (Plus, outerwear is on the pricier end of the spectrum, so anything that amplifies it's versatility is a win in my book.) So, when scores of designers sent models down their Fall 2018 runways wearing coats that had been cinched with belts, I (internally) cheered the return of the timeless trick. Does anything convey ladylike refinement like a beautifully tailored coat worn with a sleek leather belt? And yes, there is the minor annoyance of unbuckling and being left holding a belt once you arrive at your destination, but to in response to that argument I'd like to submit the glove and the scarf. If you can handle removing gloves and unwrapping a long scarf, you can handle removing a belt, which, by the way, neatly loops over the same hanger you're using for your coat. And what is the winter season if not a celebration of layering? Allow me to highlight a few of the freshest, trend-forward coat and belt pairing options.
Oversize + Sleek
Oversize trench coats — rendered in animal-print or traditional khaki — look great worn open, but even better cinched closed, especially when you're wearing multiple layers underneath. Nip your waist with a sleek, unfussy belt like this pale pink version.
Puffer + Chainlink
The down-filled coat, for which everyone is eternally grateful come January, is still enjoying a moment in the trend spotlight. To elevate the style into more polished territory, cinch it with a chain belt.
Navy + Black
This classic color duo looks great in any iteration, but the subtlety of pairing a navy coat with all-black accessories makes this combo particularly elegant.
Shearling + Wide
Hefty, shearling-trimmed styles are having a major moment this season. To avoid being drowned in the bulky fabric, utilize an adjustable ring-closure style. Allowing the tail to hang for added drama.
Ladylike + Sporty
Add some edge to your most polished, ladylike coat by cinching it with a belt bag. The ubiquitous accessory trend isn't going anywhere, so get winter use out of your version by layering it over a coat.
Tone on Tone
Reach for a belt in a coordinated shade to avoid breaking up the lines of a more tailored style. Extra points if its an unexpected color like this grape ensemble.
Printed + Tied
More is more with a printed coat, so add extra flair with an artfully tied style. You can either tie an extra long style yourself, or buy a pre-tied version.