The One Shoe Trend Everyone Will Be Wearing Next Spring
Maryam Nassir Zadeh Spring/Summer 2019. Photo: courtesy Maryam Nassir Zadeh.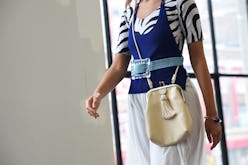 New York Fashion Week has finally come to a close, and though the fashion world has decamped to Europe for the next string of fashion weeks — London, Milan, and Paris — we're still thinking about the major looks that walked down the runway. And sure, while we're excited about big trends like Bermuda shorts, fringe, and even head-to-toe suiting, it's the details that kept our heads spinning: The best Spring/Summer 2019 accessories trends are deserving of their moment to shine, too. Next season, expect to see new iterations of some of your favorite styles from the past year — dad sandals and fanny packs included.
This season, there were a few over-the-top highlights on the runway — like Marc Jacobs' cotton candy flower bows, the romantic crowns at Rodarte, and Brandon Maxwell's plexiglass wine-filled bags — and though they're memorable, they're not necessarily predictive. Still, designers generally fell into one of two camps: practical (hi, easy flip-flops and shady bucket hats) or photo-worthy (lookin' at you, microbags) — the latter of which may not make your life any easier, but sure look good on Instagram. Ahead, find our breakdown of the top accessories trends from New York Fashion Week to see exactly what we mean.
Micro Bags
The double-bag trend might have have been born out of necessity rather than aesthetics: Tiny crowd-pleasers are here to stay, according to NYFW, and they fit little more than your cell phone and a credit card. Earlier this year, Jacquemus' Le Chequita bag sparked an internet obsession with micro accessories, but for 2019, brands like Brandon Maxwell, who showed a metallic "B" embroidered micro, to Maryam Nassir Zadeh, whose mini lace-up wristlet will prove popular. The question though: How small will things go?
Flip-Flops
They're baa-ack: Remember a time when you could walk into your local mall and buy a pair of flip-flops in any color of the rainbow for a single dollar? Well next year, the designer version will prevail. Some good news, though: While we've all matured, so has the lowly thong sandal: From the classic leather flip-flops at Tibi, which designer Amy Smilovic paired with the perfect suiting separated, to the sleek G-string sandal on several models at the Bevza show, thong sandals are enjoying a resurgence. PRISCAVera also sent down a socks-with-sandals look; Prabal Gurung adorned his thong heels with feathers; and Rosetta Getty added pom poms.
Crafty-Cool Belts
Models at Maryam Nassir Zadeh sashayed down the runway with belts that look like they belong in your grandma's vintage collection — but with a modern twist. With a bejeweled buckle and tied at the waist, belts took on a more form-than functional role. Again at Tibi, Smilovic debuted an art-deco twist buckle; Carolina Herrera showed a jeweled chain belt; and Michael Kors's rhinestone-filled starfish belt was a must-see.
Sport Sandals
Yep, more trends from your past that you thought you'd never want to relive! From mountain sandals to vegan leather Tevas, dad-inspired sandals were a fashion favorite for Spring/Summer 2019 season. Styled barefoot at Nanushka and Maki Oh — or paired with socks at Sandy Liang and Collina Strada — the sandals appeared more elevated when paired with silk dresses, chunky sweaters, and all-over lace. Nanushka's elevated take on the trend, specifically, was an updated matte vegan-leather finish with the perfect square toe.
Floral Bucket Hats
Anna Sui's romantic translucent print, Phillip Lim's tonal floral printed cotton, and Michael Kors' fuchsia brocade all have one thing in common — they look oddly great in bucket hat form. While practical, bucket hats are ready for a high fashion twist: Designers showed them paired with contrasting prints, or as part of matching ensemble head to toe. Take note: the popular straw hat of seasons past now has a replacement.
Refreshed Belt Bag
While brands like Gucci and Ashya helped spark a fanny pack resurgence in the last few years, the style is more utilitarian this time around. Nanushka kept it classic and elegant in a beautiful, rich-colored satin at its Spring/Summer 2019 presentation, while Matthew Adams Dolan transformed a utility belt into a practical bag, adding the perfect denim pack to power suits that walked the runway. Sandy Liang got in on the action, too.