Burberry Partnered With The RealReal To Promote A More Sustainable Future In Fashion
Courtesy of The RealReal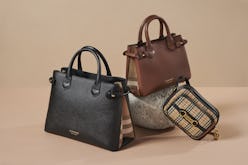 You may've spotted a vague statistic thrown around the fashion community's sustainability discourse online: that this industry is one of the most wasteful of them all. The Ellen MacArthur Foundation, a circular economy charity, put a shocking data point to this often-passed-around stat; it estimates more than $500 billion of value is lost each year due to a lack of clothing utilization or effective recycling programs. This isn't limited to the major corporations, either. The foundation also estimates that some garments are discarded after seven to 10 wears in the U.S. — something the new Burberry x The RealReal partnership hopes to change for the better.
Announced Oct. 7 (on National Consignment Day, naturally), the new partnership between the house and authenticated luxury consignment retailer gives an extra incentive to pass your used Burberry goods along. Thanks to both brands, any customers on The RealReal who consign Burberry pieces between Oct. 7, 2019 and Jan. 31, 2020 will be offered a personal styling appointment and a British High Tea at select Burberry stores.
"Leading the way in creating a more circular economy for fashion is a key element of our Responsibility agenda," noted Pam Batty, VP Corporate Responsibility at Burberry, in a press email. "The RealReal shares our ambition to promote the circular economy and keep clothing in use for longer."
Additionally, any influx of Burberry goods on the website will benefit The RealReal shopper — according to the brand, demand for the house's consigned goods has increased 64 percent year over year. "We know that the enduring quality of Burberry pieces means their appeal and value is long lasting," Batty continued. "Through this new partnership we hope to not only champion a more circular future but encourage consumers to consider all the options available to them when they're looking to refresh their wardrobes."
"A brand as storied as Burberry embracing the circular economy demonstrates the power of resale's impact on both the luxury market and the planet," added The RealReal's CEO, Julie Wainwright, in the same email. "I hope together we'll be a part of pioneering a future in which circularity is a consideration for every luxury brand." Together, both Burberry and The RealReal have made a donation to Materials for the Arts, a creative center in New York City that connects reusable materials with arts and cultural organizations and non-profits.
Interested in earning your very own High Tea, and some extra shopping change in the process? You can start consigning your own Burberry goods on The RealReal just by clicking over to the marketplace's website.