Here's Proof Your Dad Might Have Been More Stylish Than You
by Aemilia Madden and Mecca James-Williams
Shutterstock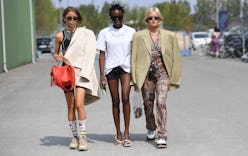 At one point deep in your teenage years, you may have begged your parents to ditch their embarrassingly outdated outfits (because the sheer horror of arriving at a party with your mom or dad in tow is bad enough). But, as an adult, thanks in part to the maturity that comes with age and also to the fact that all trends seem to come around eventually, it's time to admit it. Dad fashion trends are cool again.
Ok, so the cool factor may be in an ironic, anti-fashion fashion sort of way, but take a look at Spring/Summer 2019's top runways, and a top theme that emerges is the funny fact that dads (and certainly moms too), wore the trends first. All it takes is a bit of digging in the boxes of photos somewhere in your parents' basement for sure proof, but such doggedness is wholly unnecessary. Focus your attention instead on bringing the no-longer outdated '80s and '90s trends into your personal outfit rotation.
The key is to start simple: Swap your sleek shoes for the chunky dad sneakers that have become a staple in designer collections from Balenciaga to Gucci. Once you're feeling comfortable (and with your parents blessing, perhaps), take things to the next level, balancing out utilitarian staples like cargo pants and Hawaiian shirts with sleeker pieces: say, a slip skirt or dainty heels. By countering the practicality with a touch of romanticism, even the biggest skeptic may just be converted. Read on for a break down of five 2019 trends that all come straight out of the deepest, darkest corners of dad's closet.
Cargo Pants
Maybe your dad stuffed his cargo pant pockets with spare pliers or a screwdriver, but you're by no means obligated to be so handy. These practical pants are great for small necessities — like lipstick, keys, your phone, and sure, maybe a Phillips head — and you can head out the door sans purse. To balance out the oversized styles on the runways, consider styling them with a fitted tee or cropped top.
Hawaiian Shirt
No need to be somewhere tropical to pull off this vacation-ready shirt. Hawaiian prints in bold hues are the bolt of energy you'll want in your wardrobe after a dreary winter. Style with skinny jeans, or throw over a fitted dress for a trendier twist. You can even tie your shirt at the waist.
Bucket Hat
If you've heard your parents espouse the importance of sun protection, come spring, it'll be easy to embrace their advice. While bucket hats first emerged last spring thanks to the likes of Burberry and Prada, expect them to stick around in the new year.
Bermuda Shorts
Gone is the era of the short short; instead, longer hemlines have taken their place. Brands like Matthew Adams Dolan presented full suit sets, and Maryam Nassir Zadeh, Dion Lee, and Prada let the shorts shine on their own. Style these knee-length shorts with a fitted tank for a cool warm-weather ensemble that's made for the weekend.
Sport Sandals
Birkenstocks, Tevas, and other sport sandals have been runway mainstays for a few years now, but these chunky shoes continue to be sartorial favorites for 2019. This season, Sandy Liang and Collina Strada styled them with socks, which — if you really want to embrace the dad trend — might be the ultimate combination.