The Brand Bella Hadid Always Wears Is Having A Massive Sale Right Now
Andreas Rentz/Getty Images Entertainment/Getty Images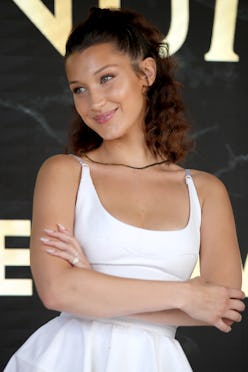 The amount of cool clothing brands on Instagram is staggering. It's basically impossible to keep track of which ones you should know at any given moment, because it seems like every time you discover a great new find, an influencer or celeb pops up in another impossibly cool label you've never seen before. TROIS (pronounced "twa") is one of those brands to know. Now that it's gaining steam, celebs like Rosie Huntington-Whiteley, Kate Bosworth, and Bella Hadid are wearing the brand — so it's safe to say the Los Angeles-based label is having a major moment. And now through Sept. 9, it's having a massive sale, so you can get some of its most star-worthy pieces at 30 percent off the already marked down price.
With its soft silhouettes and often unexpected details, you can see why TROIS is popping up all over Instagram. Popular pieces like the Greca Top (which Christie Tyler of @nycbambi has worn in white), the Alyssa Dress (which Rosie Huntington-Whiteley posted not one but three Instagrams of herself wearing), and the Ruby Top (which Bella Hadid was photographed wearing at Coachella) epitomize the effortless, always picture-worthy pieces the brand consistently creates.
Since it's not uncommon for a TROIS piece to run upwards of $300, the prices in this flash sale are a welcome surprise. Now that all prices have been slashed, there's not a single piece over that number. And with 30 percent off the already marked down prices, there are some serious steals to be found.
While a lot of TROIS clothing seems like it was meant for summer with its flowing styles and lightweight fabrics, the sale also has a surprising amount of pieces that will work just as well for fall.
Among its warmer offerings is the Devon Dress, an ankle length knit, and the calf-length double-breasted Helmut Trench. And if you can't fit anymore clothes in your closet, there are a few pairs of earrings and even a chic leather beret. If you're looking to channel the many celebrities wearing this line, now's your time to shine.