How The Body Shop Is Tackling The Food Waste Problem With A New Face Wash
The Body Shop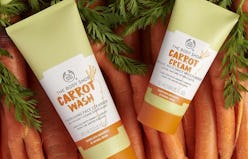 As the old saying goes: When life hands you carrots, make vegan face washes. Alright, that may not be the traditional adage — but it is the concept behind The Body Shop's new Carrot Collection. Debuting July 8 on the brand's website, the two-step collection includes the $17 Carrot Wash Energizing Face Cleanser and the $20 Carrot Cream Nature Rich Daily Moisturizer. (The Body Shop fans may recognize the moisturizer as the new iteration of the cult-favorite Carrot Moisture Cream, which was discontinued in 2011.) These new formulas aren't just made from any old vegetables, though; The Body Shop's Carrot Collection finds a new life for carrots too misshapen to sell.
"The new carrot line is enriched with above 90 percent natural origin ingredients, and made with organic carrots and Community Trade organic aloe vera from Mexico," reads a quote by Pins Brown, head of ethical and sustainable sourcing for The Body Shop, in a press email. (Community Trade is The Body Shop's fair trade initiative.) "To help reduce waste, the vegan line sources thousands of 'wonky' carrots from a British, family-run farm that are too naturally wonky to sell in supermarkets."
Better yet, The Body Shop made the Carrot Collection's packaging with sustainability in mind as well. "In addition, the products come in 100 percent recyclable packaging made from 55 percent recycled plastic," Brown continued.
"The UK Soil Association estimates that in the UK, 20 to 40 percent of produce is rejected simply because it doesn't appear marketable to consumers," a quote from Diego Ortiz de Zevallos, global brand development director for The Body Shop, added in the press email. "At The Body Shop we are working to tackle this food waste issue by using either ingredients derived from second grade/second choice food products (like our wonky carrots), or by-products from the food industry (like our strawberry seed oil made from seed leftover from the jam industry). We try to use all parts of the ingredient, 'ugly' or not, to support minimal waste and be as sustainable as possible."
Besides the vitamin-packed and antioxidant-rich carrots, the ethically sourced aloe vera leaf juice may also give the new moisturizer and cleanser an extra extra kick. Aloe Barbadensis leaf juice — sourced from the plant famous for its skin-soothing benefits — comes in first place on both new products' ingredients lists.
Ahead, The Body Shop's new Carrot Wash Energizing Face Cleanser and Carrot Cream Nature Rich Daily Moisturizer, available on the brand's website.