Bobbi Brown's New Collab Will Look Just As Pretty On Your Vanity As It Does On You
Nordstrom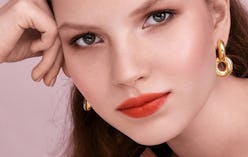 The stylish citizens of New York City don't get enough credit for their makeup. Yes, they deserve praise for how they dress, carry themselves, and the ability to navigate a seemingly endless subway system. But the classic New Yorker makeup style — subtle, easy, and chic — is inimitable. Well, until now: The Bobbi Brown x Ulla Johnson collection just unveiled five new, limited-edition makeup products that'll help beauty fans anywhere in the world achieve the carefree New Yorker look.
You've undoubtedly heard of the makeup brand Bobbi Brown before, and probably Ulla Johnson — both the designer and the eponymous brand — if you keep up with the New York fashion crowd. Or not, too; while perpetually cool, the clothes are far from fleetingly trendy or exclusive to the Big Apple. The brand is full of feminine, tailored clothing that lets everyone from Chrissy Teigen to Sarah Jessica Parker herself channel Carrie Bradshaw's style.
"Bobbi Brown is an iconic, NYC-based, female-founded company with a strong emphasis on enhancing a woman's natural beauty so on many levels it felt like a very authentic partnership to me," Ulla Johnson explained in a press email. "The city is my muse and backdrop for everything that I do. My designs and personal style are both very boldly feminine and optimistic and this vibe was very important to communicate in the collaboration."
The partnership took the makeup brand's expertise and combined it with Ulla Johnson's style, yielding easy-to-use makeup wrapped up in luxurious, pretty packaging. Each palette in the collection's named after the designer's heroines and muses, from the light and pink $40 Esme Cheek Palette to the deeper, warmer Ynez palette. Johnson also helped to curate the $45 Minou Eyeshadow Palette, a neutral, shimmery palette of five shades that combines fan-favorite Bobbi Brown colors with a few new choices.
Longtime Bobbi Brown fans will also love the collection for bringing limited-edition expansions to the $29 Crushed Lip Color and the $34 Extra Lip Tint. Until the collection sells out, you can snag the Crushed Lip Color in a matte orange-red shade called "LouLou" and the Extra Lip Tint in the shimmery shade "Bare Sparkle".
The Bobbi Brown x Ulla Johnson collection will be available on both Bobbi Brown and Ulla Johnson's websites in March. However, a few pieces from the collection are already at Nordstrom. Shop those ahead, then keep your eye on both brands' websites to grab the rest.