16 Winter Coats That'll Help You Survive The Cold In Style
Dvora/REX/Shutterstock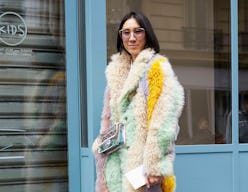 Coat season is imminent. If you haven't taken the time to find the piece you'll reach for repeatedly for the next five or six months (why does winter seem to last forever?), it's time to consider the style worthy of your investment. The good news is that the best winter coat brands are serving up plenty of options that check the boxes of being both warm and well, cool. A brand new coat is likely your first (and possibly your largest) splurge of the season, so it's important to pick a style that you can envision yourself wearing as happily in March as you will right now. Luckily, with the eight brands below, you'll have no problem pulling off an impressive cost-to-wear ratio.
Unsurprisingly, these coat brands tend to hearken from colder climates — necessity begets design after all — that range from NYC to Copenhagen to Vancouver. For the trendsetter, there are plenty of bright colors and funky prints to experiment with, or for the forever classicist, sharp tailoring and subdued shearling are in the mix too. And while not every brand listed below is exclusively designing cold-weather gear, each has set itself apart in the space with its own distinctively wintery aesthetic. Now, before freezing temperatures set in, pick out the hero piece of your winter wardrobe.
Saks Potts
If a statement coat is what you're looking for, then search no further than the quirky-cool designs of Danish label Saks Potts. Funky prints, furry details, and retro silhouettes have made the brand an It-girl favorite.
The Arrivals
This NYC-based coat brand has nailed cold-weather dressing with its stylish-yet-still-cozy collection of outwear. Crisp leather jackets, fuzzy shearling, and sporty-chic puffers are all worthy of a spot in your closet.
Aritzia
As a Canadian brand, you can bet that Aritzia knows a thing or two about cold-weather gear. So, no matter if you're in need of a tailored wool coat, or you want to get your hands on their much-lauded Super Puff, you'll be warm for months to come.
Veda
Veda may be known for its classic leather jackets, but the brand has a wide breadth that goes beyond your regular moto. Styled with relaxed jeans and a simple sweater, a Veda coat will add a splash of New York attitude to your winter look.
Sandy Liang
While Sandy Liang isn't specifically a coat designer, she has a knack for creating cool, quirky, and colorful twists on classic styles. If you're not looking for a run-of-the-mill camel coat, then Sandy might just be the ideal designer for you.
Rains
For those living in places where condensation trumps temperature as the biggest issue of winter, Rains is the brand to consider. Waterproof coats in both classic and more fashion-forward styles will keep you dry even when a torrential downpour hits.
Utzon
Copenhagen-based Utzon approaches fur and shearling from a perspective that sustainability and style can go hand in hand. The brand's cozy coats are simple and refined, a great utility piece for the months to come.
Moncler
If you're looking to invest in a luxe puffer coat, you'll want to put Moncler at the top of your list. The Italian brand has been mastering the art of the down coat since 1952 and nails the sporty (but sleek) aesthetic.