The Only 9 White T-Shirts You Should Consider Buying
Cornel Cristian Petrus/Shutterstock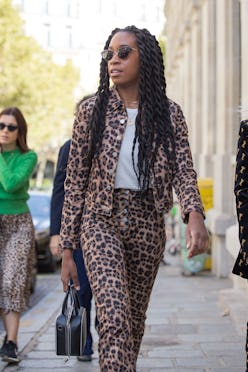 The perfect white T-shirt is sartorial holy grail. It's the one item that goes with literally everything: trousers, bohemian summer skirts, and denim alike. Every woman has her own idea of what components make for the best white T-shirt, but a few aspects usually carry weight: That you can effortlessly tuck it into a pair of jeans, it doesn't gape or wrinkle, and is just the right heft. Sounds easy sure, but that isn't always the case.
Whether your preference is a classic crew neck or a ribbed tank, a great-fitting white T-shirt is your best asset this summer. For work, dress down a blazer or tuck it into a pair of trouser shorts for a casual-cool look. Still, though the styling options are seemingly endless, it is crucial to find your perfect design. Luckily, there are a number of brands adding in thoughtful details while putting their own spin on the classic. And in addition, there are plenty of fashion insiders who have had the chance to seek out the best of the best. Below, nine industry experts — buyers, stylists, and influencers alike — share the white tees that checks all the boxes so you, too, can find your holy grail.
Babba Canales
The T-Shirt: Ribbed Tee from Cos
Why She Loves It: "The texture and fabric reads luxury. With this particular white tee, I can pair it with a trouser and sneaker for work. No blazer needed, this strong tee stands alone. I would also pair this with a flared denim and my favorite sling back heels. Lastly, we can't forget the white tee and biker short combo."
Christie Tyler
The T-Shirt: Cotton T-Shirt from Mango
Why She Loves It: "I love how soft and comfortable, yet chic it is. It's not too boxy nor too flimsy. It has such a great shape and fits just right. It's also sustainable, so even more of an added plus! I love an all-white look of a white tee, white denim, and strappy heeled sandals. Add a straw hat and you're ready to go."
Kellie Brown
The T-Shirt: Scoop Neck Tee from Who What Wear
Why She Loves It: "I love that the cut of this tee is a little boxy, but not crazy oversized. The blend makes it look and feel much more expensive than it is, and it looks great dressed up. I love white tees with less casual pieces like a silk or satin skirt. That way I can pair it with a cute sandal or a sneaker and the vibe is relaxed but with a little effort."
Courtney Madison
The T-Shirt: Crew Neck from Kotn
Why She Loves It: "Kotn makes its T-shirts from Egyptian cotton. As a company they have not only figured out how to make the best white T-shirt, open two schools and support an entire community of farmers, weavers and craftspeople, but all at a price point that's hard to beat. This summer I'm going to pair my white T-shirt with the Nikko Pant from Mara Hoffman, [sandals] from Loeffler Randall, and a new straw bag from Aiye."
Bianca Valle
The T-Shirt: Muscle Tee from Entireworld
Why She Loves It: "I would say Entireworld has my favorite white T-shirts. There's one tank they have that's a muscle tee, and the cut is so cool because it's basically like a white tee with little sleeves. It's different than the classic tank top, it's very boxy. This summer, I really want to do the long jean short look. I've been doing it for a few summers, as my style is a little more masculine. I would pair the tee with some long cut off denim shorts and some black high top converse."
Chrissy Rutherford
The T-Shirt: Hanes 1960s T-Shirt from RE/DONE
Why She Loves It: "I recently discovered the RE/DONE Hanes T-shirts and they're my absolute favorite. The fit is perfect, not too boxy, not too slim. The material is also soft but doesn't really lose its shape. A white T-shirt and denim is always my favorite look. It's effortless!"
Tiffany Hsu
The T-Shirt: Wesler T-Shirt from The Row
Why She Loves It: "The Row's Wesler T-shirt is the perfect white tee. It has a high crew neck with a mid-length short sleeve. It's just the right amount of oversized, while still having a classic fit. I love it worn tucked into vintage jeans or high-waisted leather pants. For the summer, it's easily teamed with shorts and mini skirts, such as Jacquemus' high waisted pink shorts and worn under the oversized fuchsia blazer, which was a runway hit. I'll also be throwing it on over a swimsuit and a pair of Acne Studios high waisted linen pants for a beach to brunch look."
Katie Sturino
The T-Shirt: T-Shirts from Monogram
Why She Loves It: "I don't have a favorite white tee, but I love my Monogram tees because the fit and feel are like nothing else in the world. I prefer them to a plain white tee because they add a bit of edge to any look."
Ellie Nesom
The T-Shirt: Petite Ultimate Crew Neck T-Shirt from ASOS
Why She Loves It: "I love a white T-shirt that's not too fitted and something I can move around in like a crew neck. Because it goes with everything, you can dress it up or down, throw a jacket over it, and get as creative as you like. It's never boring. I would also style it with high waisted denim shorts and barely there sandals."