A Simply Genius Way To Dress Up Jeans And A Tee
Courtesy of Anthropologie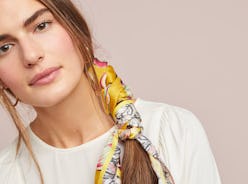 You've seen bold bobby pins all over Instagram, witnessed crystal-festooned barrettes on your favorite fashion influencers, and even spotted flip clips on the manes of stylish It-girls aplenty. In other words, you're well acquainted with the hair accessory resurgence. Returning with much vigor, the beloved '90s trend ranges from hair clips to headbands and, yes indeed, scrunchies, punctuating the spring runways of Gucci, Miu Miu, Simone Rocha, Emilia Wickstead, and so many more. But here's a bit of food for thought: this trend has reframed how to wear a scarf — the newest hair accessory. For spring, scarves are a new alternate to romantic ribbons, whimsical headbands, and playful ponytail holders. And not just any old scarf, but a skinnier silhouette doused with color or injected with print.
Read more: How To Tie A Scarf As A Top — Here Are 7 Ways To Wear This Look
While the lightheartedness of hair accessories is dandy as ever — heck, they're downright practical on many occasions — they can skew a tad young, especially in professional settings. And like most other hair pieces, scarves can be tricky to style whether you have shoulder-grazing waves, long sleek strands, or natural curls. But here to dole out advice on how to wear a scarf in your hair are five fashion insiders from designers to style experts and ultra-stylish influencers. These women know the ins and outs of the silky, printed, and color-infused accessory with versatile tips from sprucing up a ponytail to tying your strands up into a top knot and keeping baby hairs in place while the rest of your hair flows free. Read on for their styling advice and shop the edit of playful scarves to keep in rotation for spring.
Tanya Taylor, Designer
"Silk scarves are a quick and easy way to add color and interest to any outfit. I usually opt to wear mine around my neck but love that I can take it off throughout the day to tie my hair up," says Taylor. "I like my hair to be out of my face while I'm designing and a silk scarf makes my pony feel more sophisticated than a scrunchie — it also doesn't leave a mark so I can put my hair back down for dinner without having a crease."
Caroline Anderson, Style Expert at Anthropologie
"Every woman should include a silk scarf in their wardrobe — it instantly adds visual interest and sophistication to an outfit," says Anderson. "When I try to pinpoint why it's such a transformative accessory, I always come back to one thing: It's a classic piece that has an inherently stylish history, calling to mind icons like Audrey Hepburn and Grace Kelly. It evokes a sense of luxury with its elevated fabrication, but its versatility makes it an easy addition to any outfit."
When worn as a hair accessory, Anderson says that silk scarves can be a refreshing alternative to typical hair-ties and clips, but the style expert recommends a few other tricks for accenting an outfit. "I love styling a silk scarf as a belt, bracelet, around your neck, and even tied onto a purse, with so many motif and size options, anyone can find a style suited to their taste and budget."
Tessa Tran, Creative Director of Chan Luu
Tran is also for wearing silk scarves in and out of your hair, and her favorite right-now combination is a print-on-print look via a patterned dress with a complimentary scarf. "The mix of colors and patterns makes a really interesting visual effect. A good silk scarf is also a great investment — who would ever pass up their grandmother's vintage Hermès scarf."
Cipriana Quann, Co-Founder & Editor-in-Chief of Urban Bush Babes
"The silk scarf is like the equivalent of a Mary Poppins bag, it's just so multipurpose. I use it as a pillowcase, neck scarf, and for my hair, not only as headband but a ribbon," says Quann whose known to wear colorful silk scarves in her hair. "[Scarves] have really been my little strand savior. No matter what your hair type, hair bands can cause unnecessary tangles and breakage. While cotton can suck the moisture from your hair quicker than The Vampire Lestat. Therefore, investing in a silk scarf can be your holy water, especially for textured hair."
Alyssa Wasko, Founder of Donni
"While I do love scrunchies and barrettes, it's understandable that they aren't for everyone," says Wasko. "There's something so elegant about a silk scarf in your hair — it's an easy way to elevate your daily jeans and a T-shirt." Whether you wear a scarf as a headband, tie one in a bow with a ponytail, or weave one into a braid, Wasko says the versatility of a scarf makes it a great investment piece is something every woman should have in at least one color. "A silk scarf has a sophisticated and timeless element that the other [hair accessories] don't."