The Fashion Insider's Travel Guide To The Coast Of Turkey
Courtesy of Elise Labau Topaloglu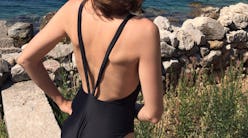 With the advent of Instagram, one underrated benefit is the ability to vicariously participate in your friend's luxe vacations and spark ideas for your own IRL travels. The feeling of being transported somewhere far away elicits a distinct sense of calmness and contentment that's pretty hard to beat. Often, saving a list of must-dos from a trusted source — online or from a friend — can make an upcoming trip even better. Elise Labau Topaloglu, co-founder of Golden Edit just returned from Turkey, with tips for the best way to travel the country if you happened to be headed their too. There are all the little details that make a trip special — off-the-beaten track restaurants, quaint accommodations, and packing ideas that you'll feel great wearing on your travels too. Of course, along with wanderlust-inducing photos to inspire you.
Topaloglu co-founded Golden Edit with the intention of carving out a shopping space for those who perpetually spend time in the sun — all year round. The website is chock-full of warm-weather essentials that have a focus on sustainability and craftsmanship. She and her co-founder Florencia Cavallo travel around the globe to hand pick pieces ranging from artisanal straw bags to bikinis. In other words, Topaloglu knows a thing or two about traveling, which is why she shared her photo diary with TZR for her recent trip to Turkey. Below, see her bookmark-worthy snaps from the trip, read her Q&A to find out how she gets away in style, and shop what she's wearing so you can get going on your next adventure away.
Destination: The Bozburun peninsula in the Southwest of Turkey.
Describe the ambiance: Rural paired with seaside charm. The kind of place where you can eat freshly caught octopus while having to pull your car over to let a herd of goats cross the road.
Where did you stay? We were there with family, so we stayed in a 3-house rental in the village of Sogut.
What was your favorite meal? In Turkey, my favorite meal is always breakfast. It's probably the most elaborate and in summer such a great display of some of the freshest produce ... tomatoes, cucumbers, olives, fresh local cheeses, village bread, butter and jams. What's not to love?
What were your favorite markets and shops? While in Bozburun, I did minimal shopping. And to be fair we had a stopover in Istanbul, so I was able to go to the Grand Bazaar which I always find exciting! I even brought back some goodies for Golden Edit! Hardly a detox…
Describe the smells and sounds: For sounds, cicadas for sure, which to me will always be synonymous with summer. And because we stayed in the village, you can hear kids playing down the street, or the local watermelon guy driving around selling his melons off his truck yelling "Karpuz". It's incredibly charming.
Describe your vacation wardrobe color palette: Earthy, shades of terracotta and deep forest green, and lots of white. And, of course, straw for accessories because ... summer!
What are three items you wore over and over again? I lived in this flowy maxi dress with hand-crocheted daisies along the neckline, an airy cotton skirt in a lovely shade of terracotta, and of course my absolute favorite toquilla straw hat from Ecuador, which keeps getting better, summer after summer.
What is your travel outfit? I have a 4-year-old, so I prioritize comfort above all. You never know when you'll need to sprint in an airport.
What did you wish you didn't pack with you? Black. I think black tends to become the default when you've been a New Yorker for some years, even for an island girl like me. And when you get to your destination, you realize that's the last thing you want to wear. I'd say the exception would probably be a great black one piece paired with a gingham bucket hat!
What was the highlight of your trip? My husband bought a small plot of land in a natural reserve in the area a few years ago. This year, we took our daughter there for the first time. We went there for a sunset picnic. We stopped over in Sogut for balik ekmek, Turkey's version of fish and chips, and basically had dinner on the hood of the car while watching the sun go down among the olive trees. So romantic!
What was your general budget for the trip? We kept it rather low key. The beauty of going away to a place like this is to soak in the local culture and its people and to take in what the untouched nature has to offer.
What was your vacation beauty routine? I keep it very simple while away during the summer. Clear, bare skin is my priority with minimal make-up, maybe just a touch of mascara in the evening. I do love a swipe of Vertly's CBD infused lip butter.
Where are you traveling to next? I'm dying to go to Cadaques in Costa Brava, Spain. I also want to go back to Portugal. I'm thinking that could be one great trip. Stay tuned!